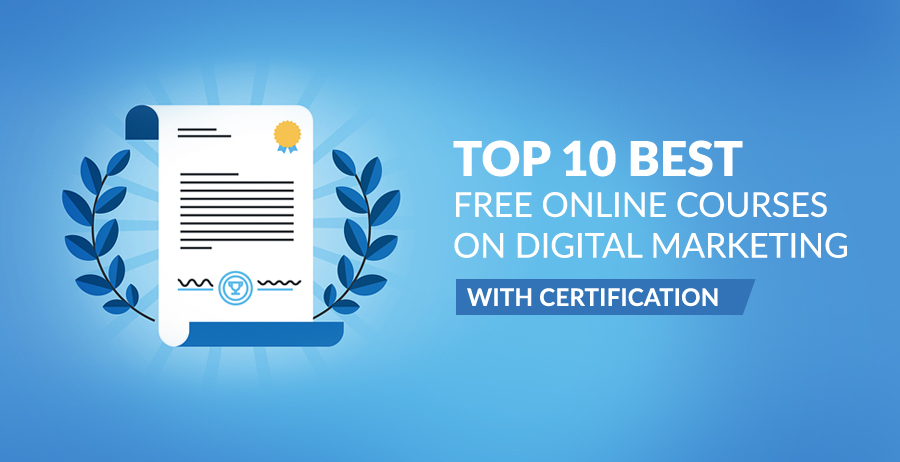 There are tons of ways to become an excellent marketing specialist. Most of them even get ahold of multiple responsibilities. This means marketing has a wide range of possibilities for self-development and learning.
Most likely, you may have no degree in marketing and it's totally okay. For instance, you're an entrepreneur running a small business, so marketing knowledge may play a huge role in your job.
Or you're just willing to master your digital marketing skills for some other purpose...
Whichever motivation you have, there is 1 thing for you to remember. Modern marketing specialists learn a lot of skills on the go, but very often do they forget about fundamental knowledge.
"Practice makes perfect but theoretical knowledge is a must"
The best way to fill the knowledge gap is to complete a certified online course from reliable and well-known platforms. Fortunately, most of these courses are available for free. The only thing you're going to invest in learning digital marketing is your own time and efforts.
Today, we'll introduce to 10 best free digital marketing courses and which online learning resources will provide them to you.
Choose the one to your needs and liking, and devote a little time to learn a little more about internet marketing! Although none of these courses implies receiving a college degree, all of them would issue you a certificate after successful completion.
1. Google Online Marketing Challenge [ check here ]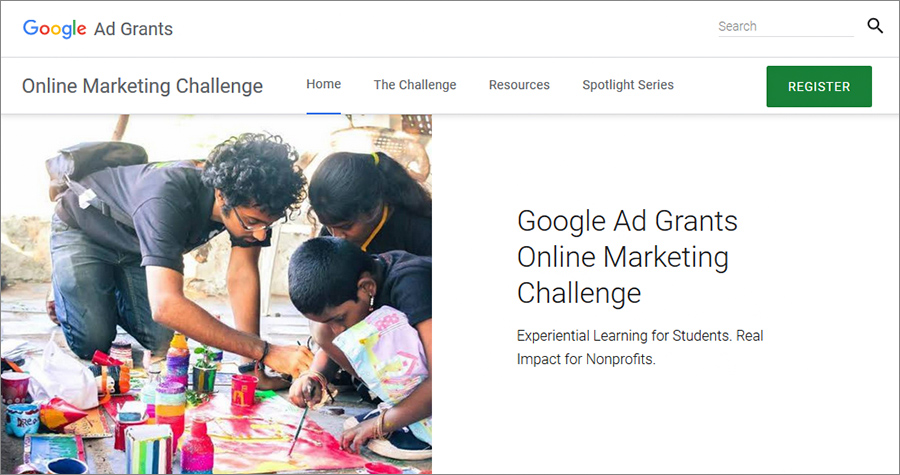 Are you ready for some the biggest challenge you may possibly take in life? Thanks to Google, more than 100k people from over 100 countries already got real experience running online marketing campaigns for real nonprofits.
The Google Online Marketing Challenge is an opportunity to execute real marketing campaigns using Google Ads (with $10,000 USD monthly budget as a grant). Besides, it's an online course divided into modules. Each module covers various topics, including introductory digital marketing, SEO marketing, search & display advertising, social, mobile, analytics, etc. Everyone applying for this course is granted $250 that one can use in AdWords to run his own ad campaign within three weeks of learning.
The best part of completing this free course is the chance to get prizes from Google. Where else would you have a 10k USD budget to run the company's project anyway? This makes Google Online Marketing Challenge one of the best free courses with multiple offered opportunities after its successful completion.
2. WordStream's PPC University [ check here ]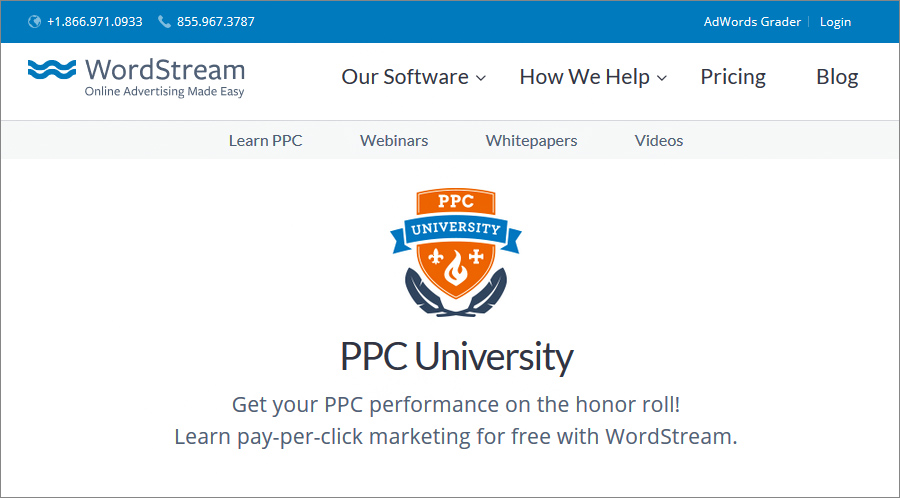 PPC stands for Pay-per-click. It's a common marketing strategy with its own pitfalls that have to be explored and well mastered. PPC University provides a wonderful opportunity to learn more about PPC and enhance your digital marketing skills from best WorldStream teachers.
In general, WorldStream is an online learning resource offering to complete three marketing courses at no cost:
PPC Basics
Optimization Best Practices
Advanced Strategies
The courses have classes for both beginners and advanced users as well as some additional modules for social advertising. They will be especially useful for small or medium-size who failed to run their pay-per-click or social media ad campaigns cost effectively. The University claims to have accesses to thousands of accounts of various companies. The strategy offered in a course helped them achieve the greatest results with their invested budget.
Last but not least, you can watch webinars and read the materials using any mobile device apart from a PC because of a mobile-friendly WorldStream website.
3. Social Media Quickstarter Digital Marketing Course [ check here ]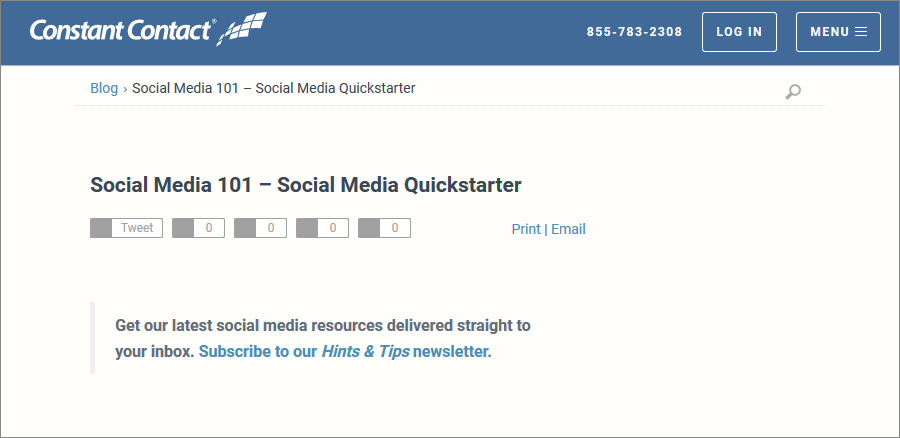 Social Media Quickstarter is a complete online marketing training course provides handy step-by-step guidelines for your digital marketing skills for Facebook, Twitter, LinkedIn, YouTube and some other platforms. The platform insists on integrating email and social media marketing in order to reach better results from both of these powerful channels.
In conjunction with social networks, the Quickstarter course covers other important topics like QR codes, ratings, and blogs. You'll get access to a huge amount of materials, including glossaries and how-to guidelines along with practical lessons. So whether you're a beginning graphic web designer, web developers, or an SMM manager, the course will be 100% helpful in many aspects.
A little bonus after taking the final exams is receiving a special badge that one can see in a resume of the user's LinkedIn profile.
4. Inbound Marketing Free Certification Course [ check here ]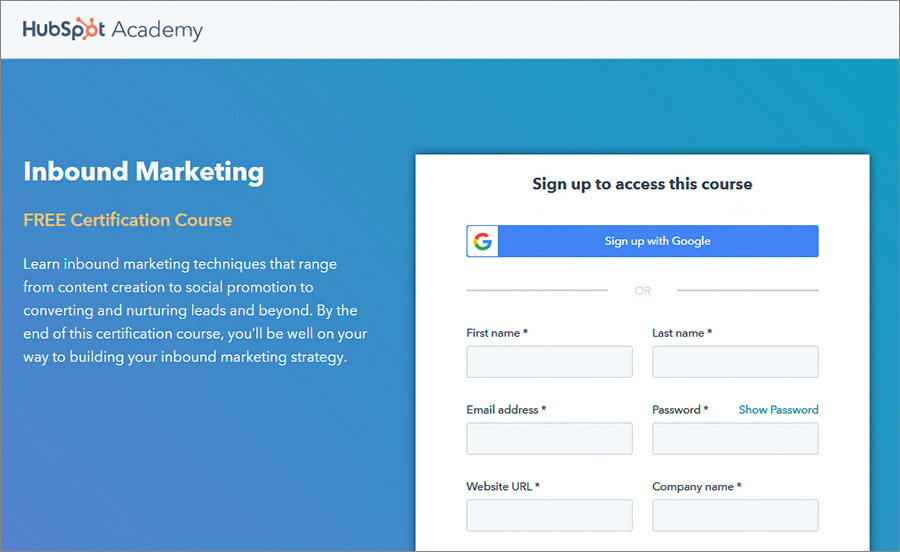 Brands use inbound marketing more than anything else today, so knowing its basic principals is a key to becoming a top-notch marketing specialist or a successful business owner. If you are eager to get some useful knowledge, try this HubSpot Academy comprehensive inbound marketing course.
Not only is this course completely free with an ability to receive a certificate at the end, but also it offers an interesting learning plan. 8 lessons, 29 videos, and 13 quizzes are aimed to teach you more about content creation, social promotion, converting and nurturing leads, email marketing, and more. You'll learn how all of them can work together in order to build an effective inbound marketing strategy.
Successful completion of the course implies receiving a special badge for your LinkedIn resume.
5. Alison Free Diploma in E-Business [ check here ]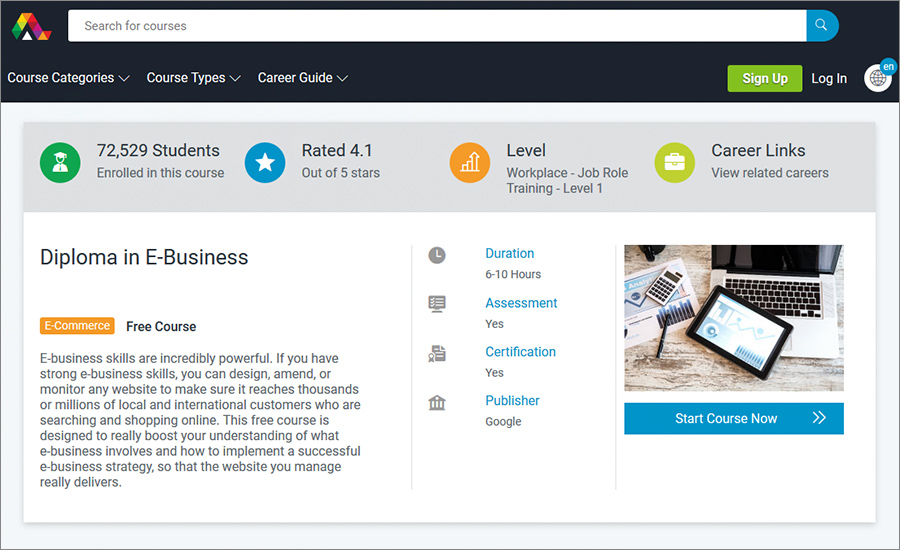 How to reach your target customers or expand your e-business to an international level by attracting potential buyers worldwide? Just master your e-business skills and you'll get that it's real!
Alison is a huge platform (over 6 million users) for learning that offers a variety of free courses and instructions. The following Alison Free Diploma in E-Business course will help to understand the peculiarities of business promotion on Facebook, Twitter, and various blog platforms. You will learn how to develop an effective e-business strategy on social media and learn more about affiliate marketing.
The entire duration of the course is 6-10 hours and provides a certificate upon completion.
6. AdWords Fundamentals [ check here ]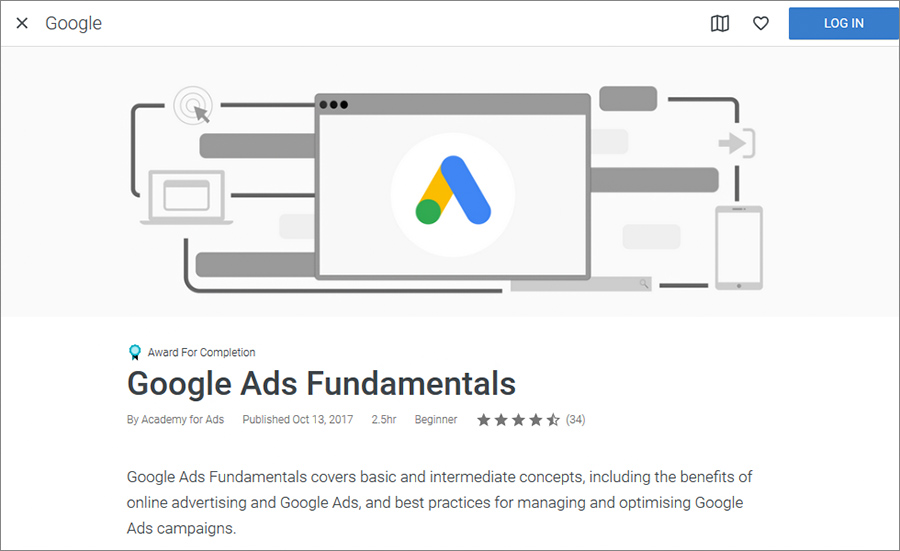 AdWords Fundamentals offered by Google will help you understand the basic concepts of AdWords online advertising platforms in a much better way. You will learn the peculiarities of the ad modalities, such as Search, Display, Mobile, Video, Shopping, and others.
The course lasts for 2.5 + hours and implies receiving a certificate provided you take another Google AdWords course of your choice.
7. AMA Professional Certified Marketer in Digital Marketing [ check here ]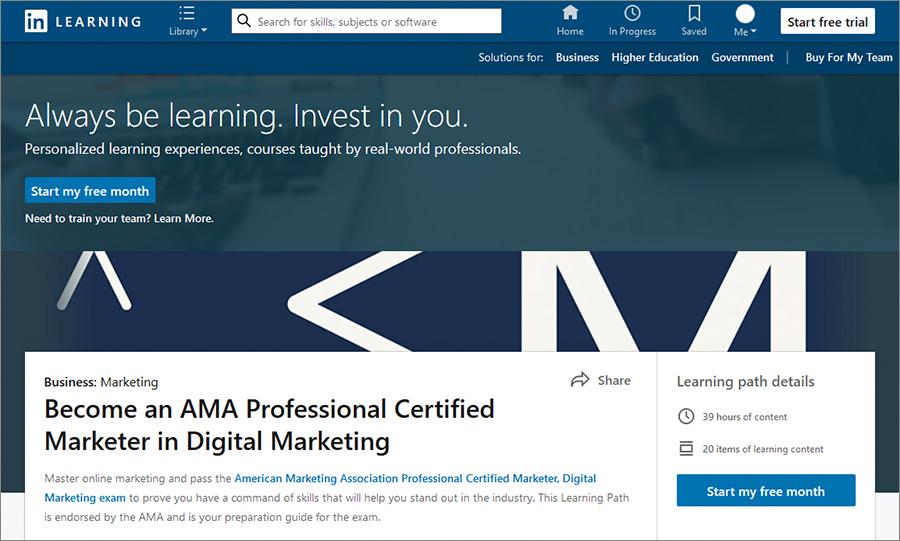 LinkedIn went further from just being a reliable professional social network and created LinkedIn Learning that now offers hundreds of video tutorials to develop a variety of skills.
Among the best training for marketers, it offers the course Become an AMA Professional Certified Marketer in Digital Marketing. To create this course, LinkedIn cooperated with the American Marketing Association and managed to include valuable information about digital marketing, SEO, SEM, as well as content, social media, and email marketing.
The course lasts for 44 hours and includes 20 learning videos. In general, one is a part of the LinkedIn Learning platform available to use within a LinkedIn premium plan. Still, you can get a 30-day free trial period, which gives you enough time to complete the course and receive a certificate at no cost.
8. SEO Training Course [ check here ]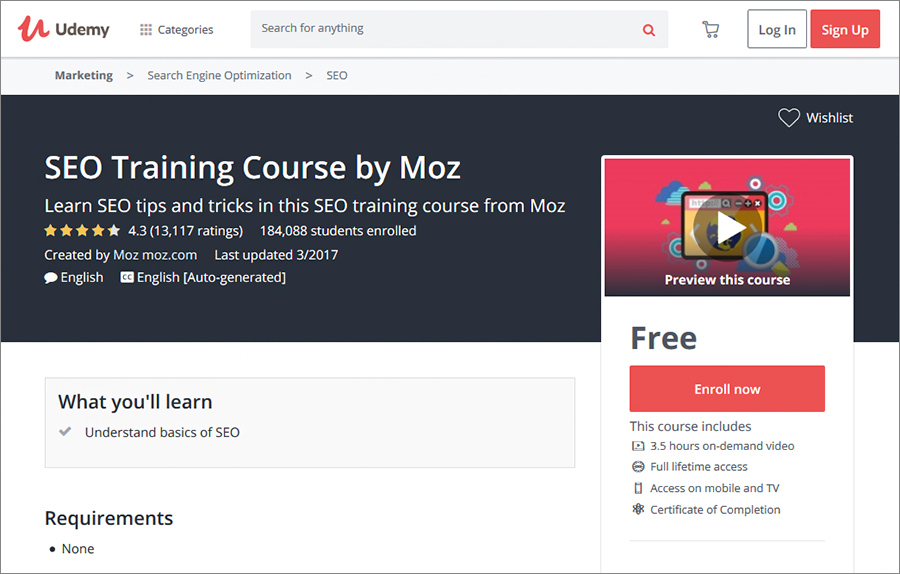 You may work as an SMM manager, a copywriter or a beginning entrepreneur, but knowing the SEO basics will be a sufficient level-up to your current digital marketing skills. The SEO Training Course by Moz is a great opportunity to get the basic principles of Search Engine Optimization, which helps your website achieve greater results in organic visibility.
The course completion takes approximately 3.5 hours. At the end of the course, you will be able to improve your internal and external website aspects.
9. Social Media Monitoring [ check here ]
Udemy online learning marketplace offers dozens of useful marketing courses, so it was hard to select the best ones from the list. Nonetheless, this Social Media Monitoring training course is worth a separate mention. It will not only help you develop a smart social media strategy but also teach you how to monitor customers in order to give them exactly what they want to see.
The course covers social media monitoring strategies for all well-known social media platforms, like Facebook, YouTube, Twitter, LinkedIn, as well as numerous blogs and forums. It will teach you how to use various monitoring services and tools to track your customers, manage your content and also find online influencers for your brand promo.
The course lasts for 7.5 hours and offers a certificate upon completion.
10. Social Media Analytics [ check here ]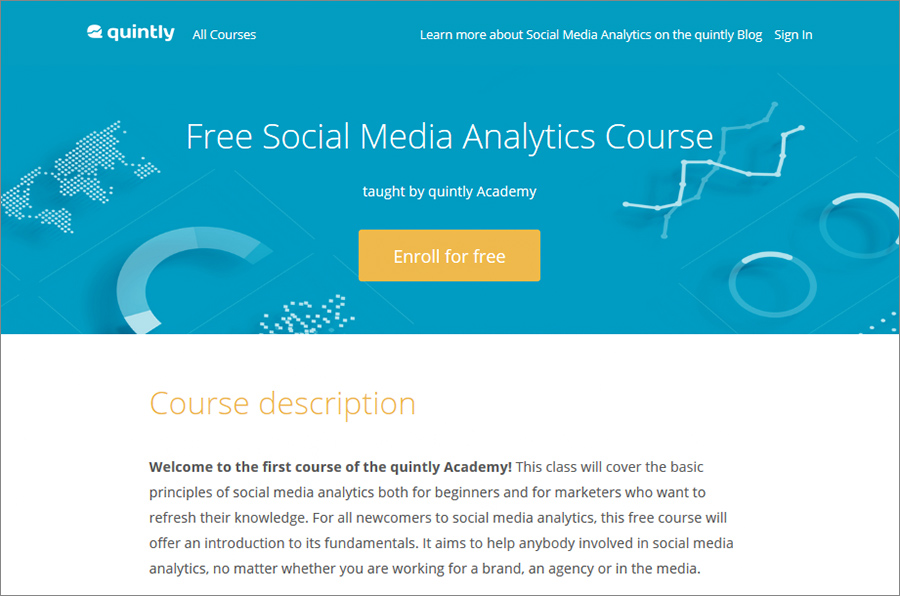 There is never too many knowledges about social media and how it works. But with a huge choice of information, it's hard to find something basic for beginners in SMM. Quintly platform offers a decent Social Media Analytics Course that covers up a topic of most important metrics every marketer has to know and use. Also, you will be taught how to understand automated reports, as well as analyze your metrics in order to identify data-based goals and KPI for your business.
The time of completion is 1+ hours and depends on how fast the person comprehends the video and text materials. You can email the Quintly team for receiving a digital certificate after finishing it.
Have you tried any of the offered digital marketing courses? What was your experience and how did it help you become a better marketer? Please share your successes here in the comments section.