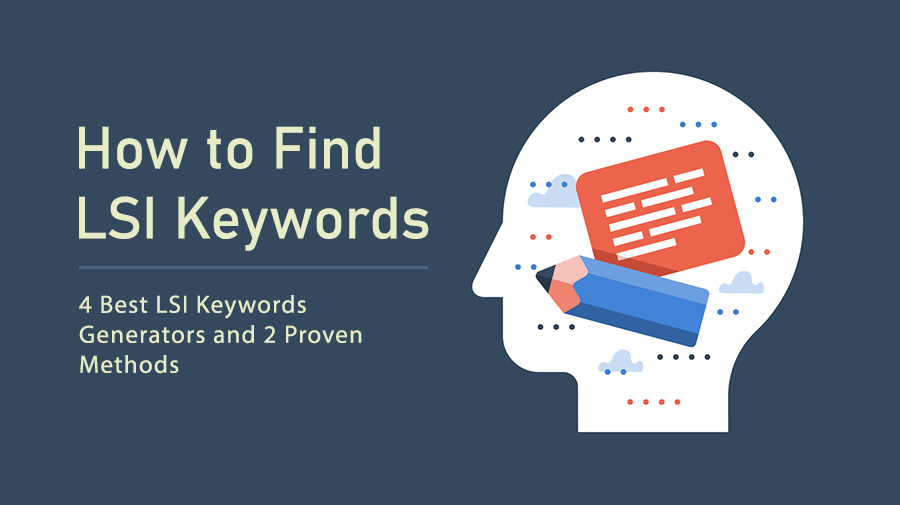 LSI (Latent Semantic Indexing) keywords are crucial for SEO, and thousands of webpages have been written about it. That's why my purpose now is not to explain the nature of LSI, or why LSI keywords and synonyms are entirely different things. You can read about all this in other basic articles (see Wiki).
This article is purely practical and may be useful for practicing copywriters and SEO consultants eager to get real SEO-friendly content. You will learn about effective tools to find LSI keywords for all types of niches. First of all, I'll talk about how one could use special LSI keywords research tools as well as proven manual methods that have proven their effectiveness in achieving great results.
Let's begin with LSI keywords tools, since they save much time, though they are not always as effective as you'd want.
Best LSI Keywords Generators
There are dozens of LSI keywords tools, including free or shareware tools. Actually, most of these tools have little to do with LSI. They are usual keywords research software that notice different search phrases with the exact target keyword and follow them one after another.
For example: if you're looking for LSI keywords for the phrase 'free SEO tools,' most kinds of 'LSI software' are likely to show you the following:
free seo tools online
free seo tools for keyword research
free seo tools for website
free seo tools software
free seo tools for wordpress
free seo tools google
free seo tools for your website
free seo tools for blogger
etc.
These phrases are beneficial, but you are unlikely to get real LSI keywords:
free backlink checker
search engine optimization software
rank checker
competitor analysis
free SEO content checker
free SEO audit tools
free Majestic checker
That's why it's a mistake to rely on the magic button called 'get all LSI keywords'. You should try to delve deeper into the niche to discover users' intent and, therefore, find more correct semantic keywords.
The imperfection of LSI keyword tools doesn't mean that you are to work only manually. There are excellent LSI keywords services that perform this kind of work much better than other tools.
If you use them, an LSI keywords search is likely to be faster. Moreover, these tools offer
valuable ideas about the content you can write for your future articles.
Ahrefs Keywords Explorer (paid)
Well, one of the best LSI keyword generator tools is Ahrefs Keywords Explorer. Though this tool is paid and its name doesn't contain a single hint of LSI, this is the best software that can help you find LSI words very quickly.
The advantage of Ahrefs LSI tool is that it performs the research of keywords in four different ways at the same time and creates a single table: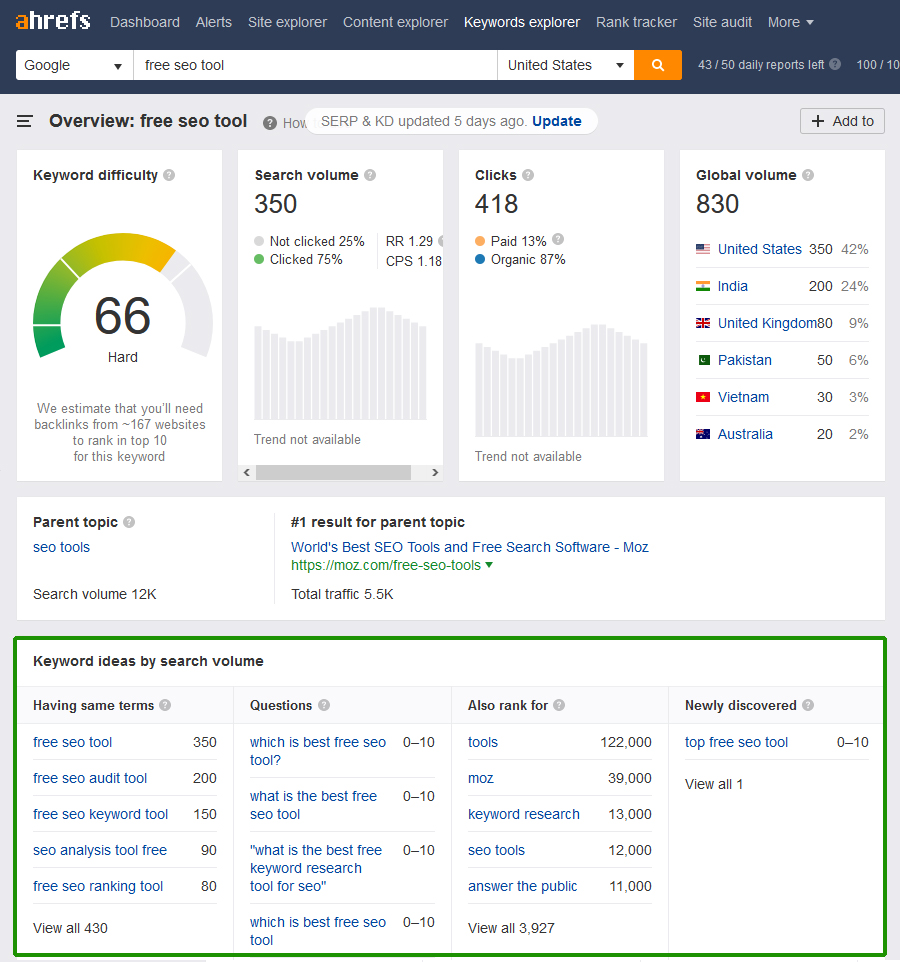 Having same terms is a result of classic exact match search. 'Phrase match' as well as all the terms in your target keywords (in any order) are taken into account. This is a very nice feature since most keyword research tools can't do it.
For example, this is what a search on 'LSI keywords' shows (the first 4 keywords):
what are LSI keywords
LSI keywords definition
what is LSI keywords
LSI keywords SEO
Questions are the most popular questions asked on Google with this keyword. This section can provide you with ready-made content ideas. You realize right away what is interesting for people, and this creates a better understanding of their expectations concerning your content.
For example, a search on 'LSI keywords' showed the following (the first 5 questions):
what are LSI keywords
what is LSI keywords
how to find LSI keywords
what does LSI keywords mean
how to use LSI keywords
Also rank for is the most valuable feature of this tool. These are the very LSI keywords that we want, and Ahrefs succeeds at their detecting. For this purpose, Ahrefs Keywords Explorer follows 10 ranking pages one after another and then discovers what additional keywords are broadly used at top web pages.
For example, this is what an 'LSI keywords' search showed (the first 5 LSI words):
latent
understand synonym
reveal synonym
synonym for help
helped synonym
Newly discovered shows LSI phrases detected by Ahrefs very recently. Usually, they are low search volume keywords and phrases that you can also use for your content.
For example, this is what Ahrefs found for an 'LSI keywords' search:
search engine land LSI keywords
LSIKeywords.com (free)
LSIKeywords is a free LSI keyword generator. Just as Ahrefs, it not only finds phrases with
exact target keyword but also their synonyms and real LSI keywords specific to the topic. But this software creates just a single list of these keywords: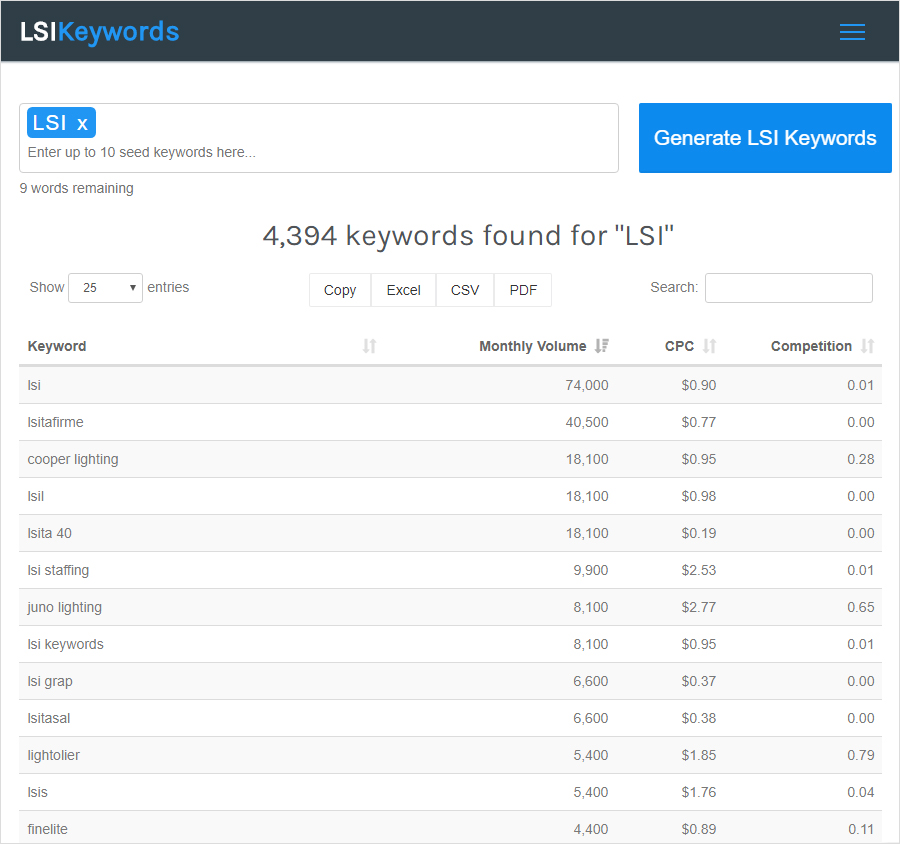 It is better to use short phrases for searching. In this case, LSIKeywords is likely to detect more LSI words. As for long keywords, the tool will show mainly all terms with the main search keyword.
Note: Some keywords can possess several semantic meanings. Considering that this free LSI generator cannot define how searches are relevant, there is a lot of manual work for you: to choose those LSI keywords that are directly related to this niche.
LSIGraph.com (free)
This is another shareware semantic keyword tool that deserves attention. LSIGraph performs an LSI keywords search using its own proprietary technology – Latent Semantic Value (LSV). It should be underlined, that this technology allows an effective synonyms and LSI words' search, and also shows other characteristics of every semantic keyword: trend, volume, CPC, LSV.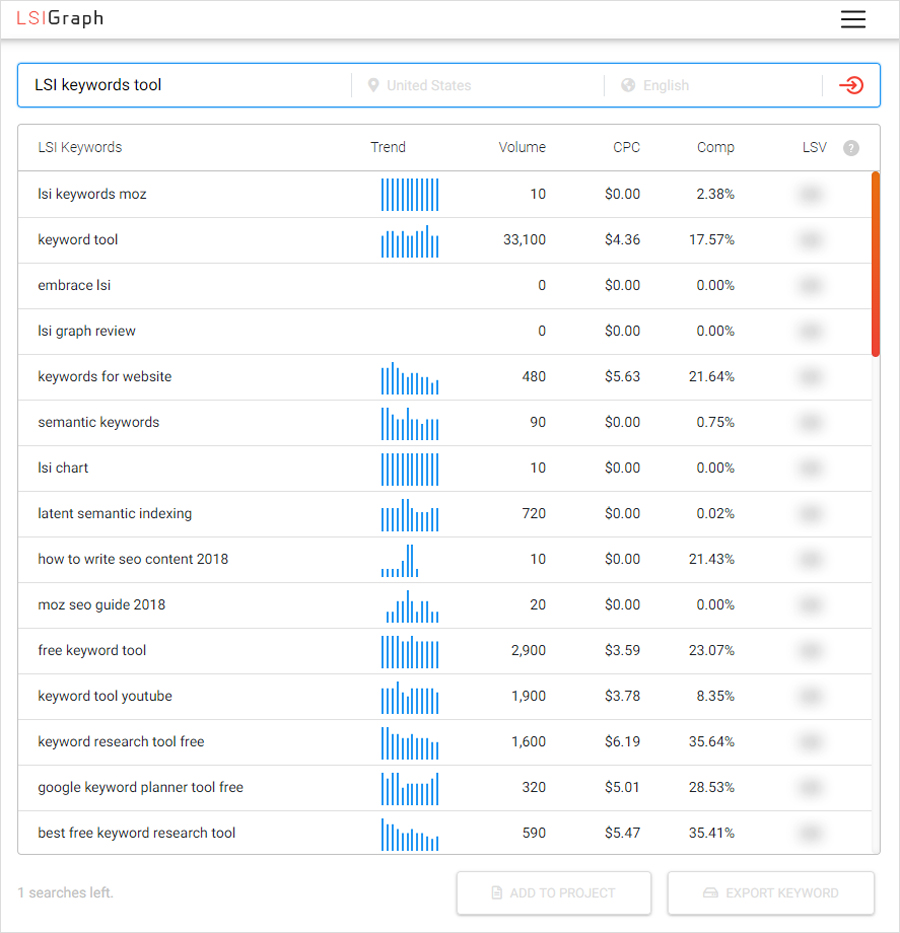 If you use LSIGraph, you can perform 8 analysis every day for free, but you are likely to do hundreds of them, provided that LSIGraph BASIC plan is paid.
Free Google Opportunities for Searching LSI Queries
It would be a mistake to tell about free LSI keywords and skip Google tools. Who would know LSI keywords better than Google? Especially if we take into account that this data is publicly available for everybody.
Google Keyword Planner
This Google tool is known to many webmasters long before the term 'Latent Semantic Indexing' emerged. Google Keyword Planner can quickly find the top LSI keywords and phrases along with their search volumes, with trend graphs and completion.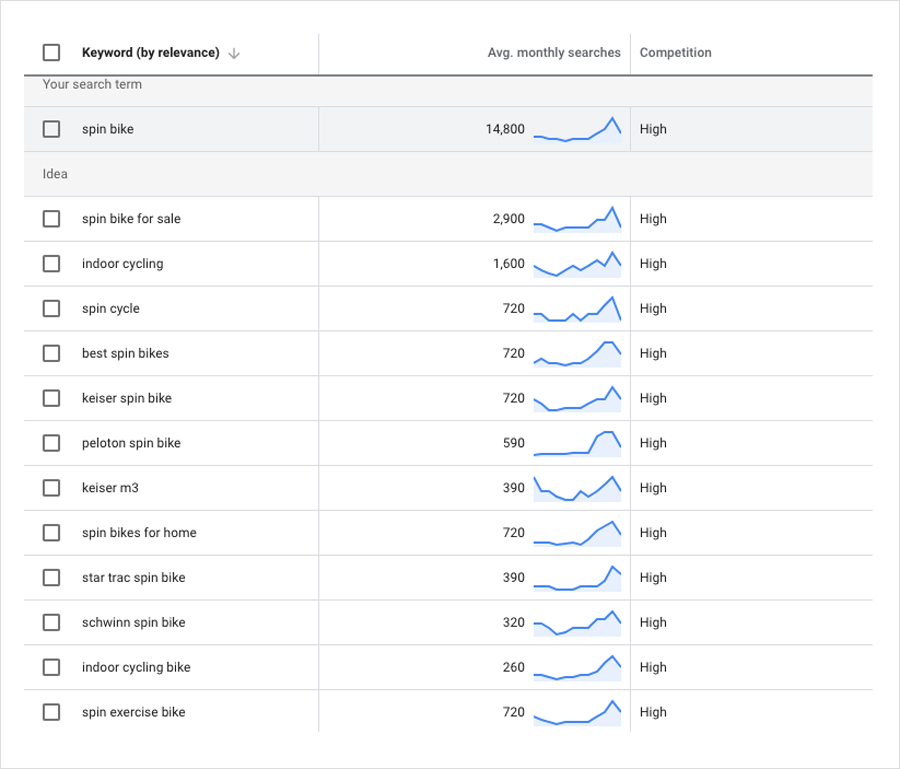 A new Google Keyword Planner update has been released in spring 2019, and this keyword research tool turned out to become even more convenient and informative. Click here to read more.
Using Google Searches Related
This is the simplest way to find LSI keywords. You should enter your search keyword in Google and scroll down the page. You'll notice the option called 'Searches related to…' with the top search keywords.
Google Image Tags
This is a further simple but effective way to find Google LSI keywords. Enter the necessary keyword in the Google Images search bar. Then you are likely to notice relevant tags for your keyword. Bingo! This is a piece of cake!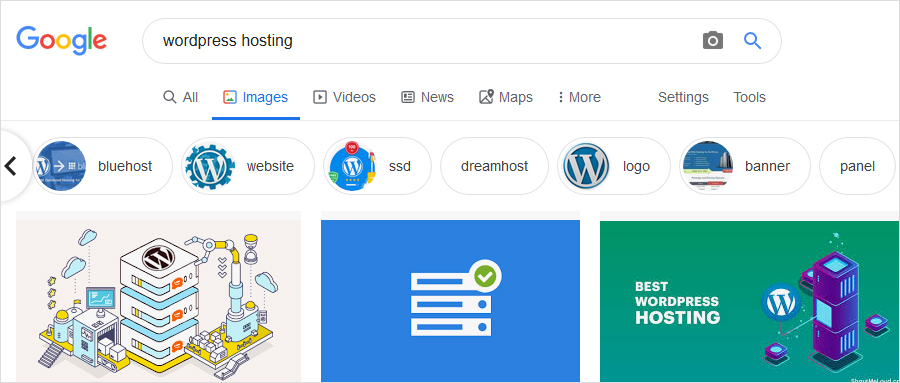 How to Search for LSI keywords More Effectively?
Well, now we know how to collect LSI keywords for content creation quickly. But sometimes it's not enough to use listed services and tools.
If you promote your website in a highly competitive niche through medium and high-frequency queries, you need super-high-quality content. It must be better than your competitors' content on all indicators, including the depth of content.
Your description of the topic must be as deep as possible, but you shouldn't go far beyond this issue to prevent semantic blur. Naturally, this content is likely to contain more unique LSI words that generally could not be found by LSI keyword generators.
That's why LSI keyword collection services will be a good choice for primary study of LSI
words and synonyms for ordinary articles (for example, your blog articles). But if you need landing pages' content (for main traffic-generating pages of your site), you're likely to use more effective methods for LSI words search.
Further, I'll tell you about two such methods that I use due to their perfect effectiveness. This will promote your content to a whole new level. Besides, you can combine these methods to get even more excellent results.
Method One: Analyzing Competitors' Content on LSI Words and Synonyms
It's evident that if we want to override our competitors in search results, it will be better to start from their own pages first. You should find top Google webpages and analyze their content. The aim of such a method is to collect LSI hints and detect the most important.
Are All LSI Keywords Equally Important?
After an accurate LSI keywords search you are likely to have a base of hundreds of words and expressions. It's easy to get confused dealing with this volume of information. Besides, you can't give them all to your copywriter (if you don't create the content yourself), since there are too many of them. Obviously, many of LSI hints will be lost and you'll miss them.
I've analyzed dozens of competitors' webpages on content and came to the conclusion that not all LSI words are equally important. There is a difference between top webpages content and the pages lower in Google searches. As a rule, top articles contained more unique and rare LSI expressions. This content turned out to be much 'deeper' compared to less popular webpages.
Lots of LSI words have a broader meaning than others. For example, the expression 'SEO-friendly content' has a more general meaning than 'latent semantic indexing.'
As in the first case, it can be used in many SEO articles, such as 'How to create SEO friendly content?'
As in the second case, an LSI expression 'latent semantic indexing' will be more relevant to LSI articles.
Consequently, if you write LSI keywords content, you should definitely use the expression
'latent semantic indexing' and, what is desirable but not essential, 'SEO-friendly content.'
An Example of LSI Content Analysis
Here is an example of LSI article analysis on the Alexa blog.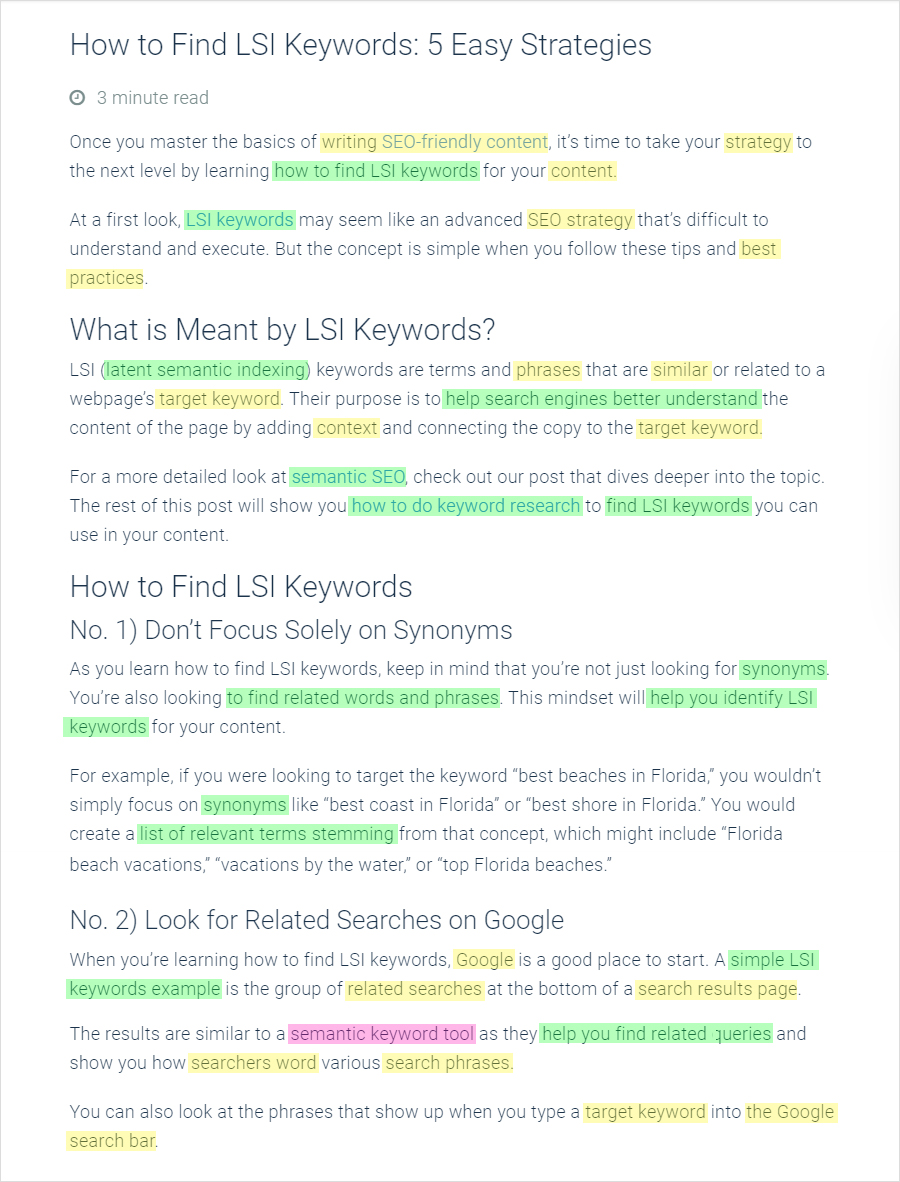 Yellow color is for desirable LSI keywords. As for green words, they are a must, since they show a high relevance to 'How to find LSI keywords' topic.
Semantic synonyms are marked pink. There is only one semantic synonym in this part of the article, though there are usually many more of them. Semantic words-synonyms are also crucial for content. They not only prevent keyword text over spamming (Hey, Panda!) but also broaden the semantic core of the article. The result is that the article can be better ranked through hundreds of low-frequency queries in addition to the main.
Have a careful look at yellow-marked LSI words and phrases:
writing SEO-friendly content
strategy
content
SEO strategy
best practices
phrases
similar
target keyword
context
Coogle
related searches
search results page
searchers word
search phrases
Google search bar
What kinds of articles could contain such keywords?
- '5 methods of making quality SEO content',
'Best strategies for linkless website promotion',
'How to find best search queries for your website' and the like.
It goes without saying that these articles must be about SEO, content creation, and, probably, connected with keyword research.
Now it's time for green-underlined LSI words and phrases:
how to find LSI keywords
LSI keywords
latent semantic indexing
help search engines better understand
semantic SEO
how to do keyword research
find LSI keywords
synonyms
find related words and phrases
help you identify LSI keywords
list of relevant terms stemming
simple LSI keywords example
help you find related queries
This list of LSI phrases means that the articles containing them will be not only about SEO or even keywords research methods, but namely about LSI keywords and LSI-synonyms.
Notably, we can write an article on the same topic using both the lists. But I'm sure that the article with green-marked LSI keywords will be better ranked in queries than the article with yellow-underlined keywords. This is true for equal conditions, and, probably, unequal.
Taking everything into consideration, our aim is not just to find any LSI keywords and phrases, but namely, those that can be absolutely relevant to our article's topic.
Method Two: Searching LSI Phrases Through Segments
Searching LSI words through competitors' content analysis is an effective method, but not without certain disadvantages. If we use it, we'll find only those LSI-keywords that are already known to our competitors, who make effective use of them. But if we want to have better quality content, we are to find more accurate and unique LSI-phrases that our competitors don't know.
It's possible if we perform LSI keywords search not only through common queries but also through compound queries. The plan of the article should be done before you start working.
I usually write this plan while analyzing my competitors' articles. It's very convenient to combine a previous method of LSI competitors' analysis and working on the structure and the plan of the article. Besides, it's an opportunity to take a peek at tricks the competitors used in their websites and try to put some of them into effect. Perhaps this will give you inspiration for your own idea generation.
Well, if the plan of your article is ready, you should delve into searching LSI phrases for every paragraph. To do this, you can use any of the methods listed before.
Another advantage of such a method is that we get not only a united LSI keywords list but also a list for every paragraph. Thus, you (or your copywriter) are likely to have a more profound understanding of what should be written in every paragraph since you see relevant LSI words in front of you.
An Example of Segment LSI Keywords Search
Let's take the article '10 Best Tools for SEO Content Writing' as an example of LSI keywords search.
It's essential to pinpoint the intent of the anticipated reader before working on the article's plan.
In other words, you should put yourself into readers' shoes to get a better vision of what they really want from the article. This example depicts how users will find your article through search keywords:
tools for seo content writing
tools for content writers
content writing tools for seo
keyword tools for content writer
Readers want primarily to get a tools list with descriptions but not the explanation of what SEO content writing is or what content writing methods exist. We could put all the above into a single article, but SEO tools description is definitely what should be emphasized. For this reason, tools descriptions will be placed in the first part of the article, and the remaining 'How to' paragraphs after them. If it's vice versa, a proportion of readers will close the page during the first minutes of reading the article, and still not finding the desired information.
With that in mind, I've made the following plan:
The Name of the Article: "10 Best Tools for SEO Content Writing"
The content and LSI keywords:

A. Top SEO Content Writing Tools
SEO writing skills
SEO content creation software
tools for seo content writing
help create unique SEO content
editing tools
tool for writing
content marketing
grammarly
bloggers

1. Google Search Console
Google content tool
Google webmaster tools
keyword research
ranking
GSC
site checker
Google guide

2. Google Keyword Planner
keyword tool for content writer
PPC
google adwords
keyword planner
Google keyword tool
keyword research
free keyword tool
keyword finder
keyword generator
youtube keyword tool
how to Google
Google words
SEO keywords
related searches
website traffic estimator
keywords everywhere chrome
finding volume
related words
3. Google Trends
most searched on Google
google trends
data
screensaver
trends visualisation
trending
tail keywords
long tail
compare keywords
trending topics
international trends

4. Hemingway App
best writing app
copy editor
HemingwayApp
proofreading
grammar cheker
Hemingway editor
writing skills
readability
passive voice checker
sentence counter
online text editor
free writing software
sentence corrector
sentence structure checker
online reader
intricate text
complex sentence generator
essay corrector
5. Ahrefs Keywords Explorer
Ahrefs bar
keyword research
keyword explorer
Ahrefs keyword planner
relevant keyword ideas
competitor
backlink checker
keyword difficulty score
return rate
SERP
traffic
rank
metrics
ranking
MOZ
organic
search volume
clicks
keyword tool
parent topic
grow definition
finding volume
word count
KD
keywords list

6. SEMrush SEO Writing Assistant
seo writing assistant
readability
writing checker
alternatives to grammarly
US Search Awards 2018
best digital tool
16,300,000,000 keywords
checks template word
how to use semrush
semrush chrome extension
keyword helper
semrush sensor
report writing tool
online writing assistant
seo content generator
swa extension
7. LSIGraph
LSI keywords
latent semantic indexing
LSV
LSI keyword generator
synonyms
find LSI keywords
how to find LSI keywords for SEO content
Graph generator
keyword finder
LSI keywords tool
synonym for optimize
next level synonym
untapped synonym
graph-tool
LSI phrases
website keyword checker
semantic content
similar keywords
target keyword
help you identify LSI keywords
seed keyword generator
keyword variation

8. WordStream Keyword Tool
how to find keywords
free keyword tool
WordStream advisor
PPC keywords
Google keywords keyword
negative keywords
suggestion
relevancy
CSV format
niche
graber
Larry Kim
keyword search tool
free keyword research
stream search
find new keywords
WordStream software

9. LSIKeywords
LSI keywords
engine optimization
free LSI keyword generator
find synonyms
semantic keywords
semantic keyword research tools
search phrases
including synonym
free keyword finder
latent semantic analysis
word map generator
synonyms for focused
latent synonym
fundamentals synonym
synonym optimize
seo words
deep dive synonym
long tail keyword generator

10. Yoast SEO Plugin for WP Websites
wordpress keyword
one SEO pack
SEO friendly
wookommerce
wordpress keyword plugin
meta description
XML sitemap
snippet
webmaster tools
best SEO plugin for WordPress
content for WordPress website
Yoast breadcrumbs
SEO plugin
Yoast SEO tool
Google favorite pages

B. What Is SEO Copywriting?
what is SEO content writing
digital marketing
SEO friendly
SEO content writing
SEO experts
content creation
copywriting services
target audience
SEO copywriting
modern copywriter

C. What's the Difference Between SEO Friendly Content and Ordinary One?
quality unique content
check writing level
SEO-friendly content
how much to charge for writing SEO content
search ranks
SERP
ranking factors
Backlinko
optimization definition
search engine optimization content

D. Popular SEO Writing Techniques
SEO writing tips
copywriting techniques
SEO content strategy
how to research for content writing
content writing ideas
ai content writer
resources for content writers
hand writing
contentmart
handwriting text
SEO copywriting
optimize
SEO service
This is a ready-made plan with LSI keywords, and you can use it for writing an article with good prospects. Probably, I shall use this plan for my own article.
If you select LSI words through this method, you must be an expert in a particular topic, or, at least, have a sound understanding of it. Otherwise, it will be impossible to understand which LSI words are relevant to semantics and which are out of place. You are also unlikely to distinguish essential LSI words from general ones.
Remember that it isn't necessary to use all LSI keywords from your plan. Your content is first and foremost for people. If you put all keywords into your article and make it unreadable, your content is likely to be spoiled. You should find a healthy balance between LSI keywords and the message of the article. Your content is to remain interesting, useful, and, meanwhile, easy-to-understand for the readers.