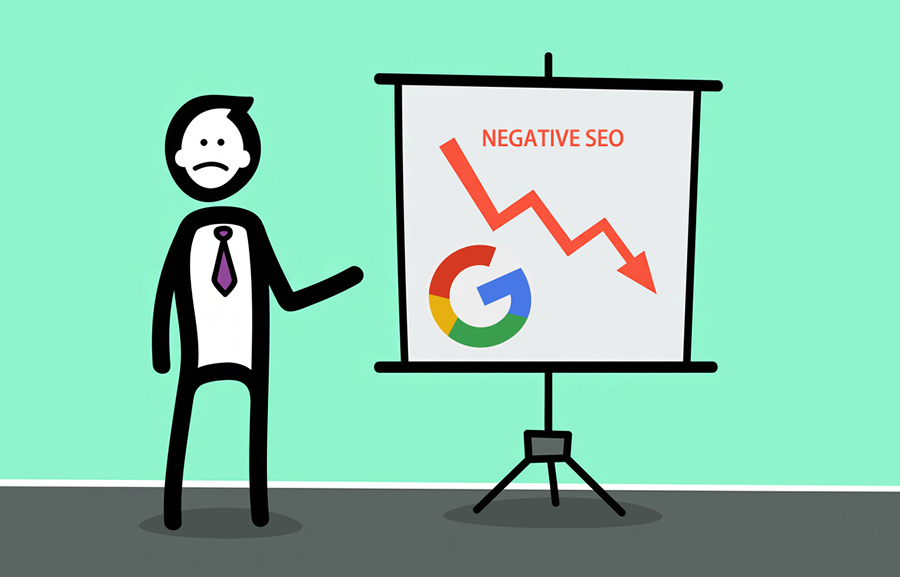 John Muller, like other members of Google stuff, has said several times that Google's search algorithm is able to detect spam links and ignore them while calculating a webpage's SERP ranking. But is it really true?
My experience, along with that of my colleagues, suggests otherwise Negative SEO really exists and has been successfully applied by different SEOs and SEO agencies. Perhaps Google really does detect and ignore some spam links, but unfortunately, not all and not always.
How Did I Find out About Negative SEO?
For a long time, I had a faint idea about Negative SEO based on my reading of articles on SEO blogs. But it was another ordinary day in my life day when I observed something that made me very upset. I noticed some backlinks to my website that looked suspicious and I literally had no clue about their origin.
The niche of these suspicious backlinks turned out to be pretty surprising for me. The links were placed inside articles listed on porn web hosting services and had appropriate anchor texts! The problem was exacerbated by the fact that such links appeared regularly, two or three times a week. Someone was persistently posting harmful links on order to spoil my project. My website stayed at Google's TOP 5 search queries for some money keywords and the traffic kept on picking up. Obviously, someone hated this, and most likely, it was one of my competitors.
From that very day I delved deeper into the issue of fighting Negative SEO. First of all, I added all the porn links to Google Disavow Links Tool. Moreover, I started to do it regularly, once a week. In this way, I made my own list of porn web hosting services that were being filled with adult content that linked to my websites (can they really be useful at least a little?).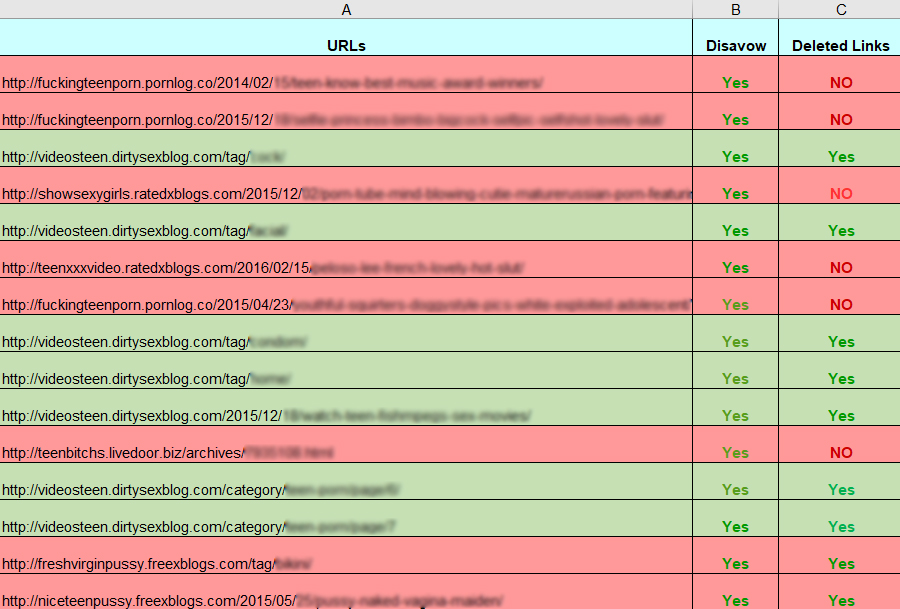 At the same time, I got in touch with the administrators of these websites and explained what was going on. I managed to delete nearly all the links and some of them with the authors' profiles.
I was bewildered that one of these websites' administrators (he owned several websites for adult content) hinted that he was ready to rid me of harmful links on his websites for only a small donation.
A short search on his name led me to a service on Fiverr where this person offered a submission service of hundreds and even thousands of such backlinks on adult websites. Moreover, when describing the service he clearly explained why one should order his service. Apparently, it is in demand…
I kept on messaging the websites' administrators. Successful removal of 90% harmful links resulted in their near-total disappearance. I celebrated victory, but not for long. Roughly three months later, I came across new bad links, as reported by Ahrefs tool. This version of spam links turned out to be more enhanced.
Now backlinks were placed not on porn web hosts that I successfully fought but on different websites, obviously from a single PBN network. Probably you figured out that my attempts to contact the administration via email failed.
I tried to get in touch with web hosting company that offered dedicated servers to some of these websites. But the hosting provider said that he had no right to enforce restrictions on his client in any way, and advised me to file a lawsuit in the the court of law about my problem.
The single and only remaining effective remedy I could use was adding all these harmful links to Disavow Links Tool. I kept on doing that very thing. A year passed and new links stopped appearing and the old ones started vanishing, one by one. I only could suppose that one of my competitors or the instigator saw all the folly of his behavior and just gave it up. That was my second victory.
The Third and the Last Attempt to Kill my Website
Imagine the situation – you hire a linkbuilder to get backlinks for your website. No restrictions at all – any types of links, donors' toxicity and anchor texts. Well, it seemed to me I hired that kind of a link builder. The joke was I didn't do that. But the backlinks kept on appearing again and grew in number day by day. I realized this was the time for the third attempt to kill my project and the same people were behind it.
Few Details About Spam Links
Mainly those links were placed onso-called link farms: in articles, forum profiles, abandoned blogs. Often the content was generated automatically and looked like a thoughtless mixture of keywords of my niche.
But the most surprising thing for me was anchor texts. Though they varied, most of them were business anchors, and, which is weird, naked links (!). It all looked as though someone promoted my project for free. And best of all, this person made every effort to do everything right:
used different types of websites;
different content sizes;
different anchor texts;
different link types – dofollow and nofollow (!)
Taking into account poor attendance of such websites, it was a great quest to contact their administration. Lots of them were just abandoned. That's why I decided to check website link profile through Ahrefs more often and add all necessary links to Disavow Links Tool.
I went on doing that almost every day and hoped to get away with it that time. But I was mistaken. In January 2018 my website went much lower in SERP.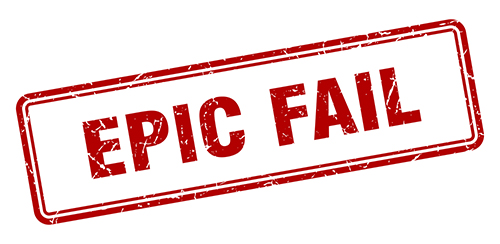 A lot of my websites that had high Google ranks for that time went down to the 60th place and even lower. There were no letters notifying about infringements in Search Console – that was an algorithmic filter of Google Penguin. Probably something went wrong and I wasn't able to disavow all harmful links.
That was the day I realized that Negative SEO does exist and it wasn't a myth after all.
How is Negative SEO Able to Quietly Kill Your Website?
It's not a secret f that SEO optimization in competitive niches requires both money and effort. The closer your website is to Rank 1, the harder it is to fight for such a desired place in Google ratings with your competitors.
For most search queries it's easy to let any website get at top 10. It's not an impossible task. It's a lot harder to promote a website to top 5, and, of course, to the 1st Google page.
Considering that a 'number one' website has a much higher CTR, comparing it to a site on the 5th Google search results page, for example, it's a safe assumption that traffic volume is likely to be higher too. Some keywords show that it's even several times higher.
Here are CTR and search clicks statistics for June 2019: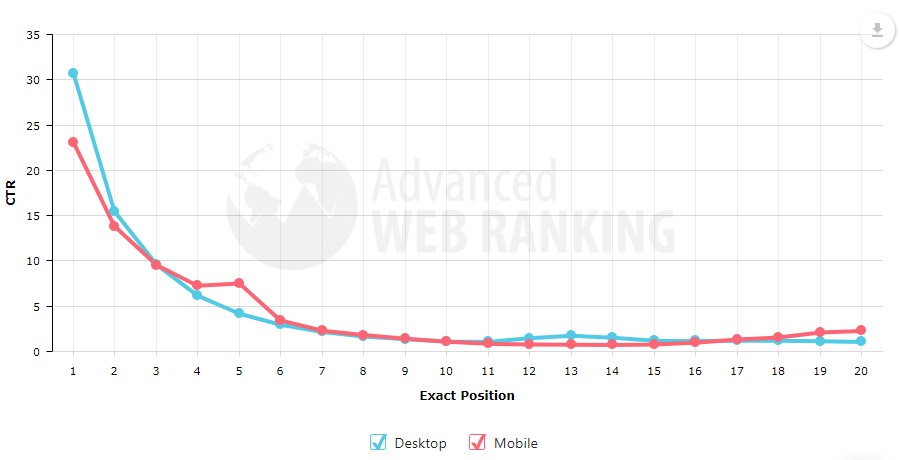 According to research
The situation with organic CTR keeps on getting worse from year to year. The lower your website's positions in SERP, the lesser organic traffic they get. Conversely, a website on the 1st or 2nd Google page is likely to get a high amount of traffic.
Thus, now most websites want to get to several main Google pages and not just to Top 10 as before. Sometimes it's enormously difficult to get any higher among those Top10 pages in SERP. That's why one could use different methods for achieving this goal.
Under such strict conditions some unscrupulous SEOs realized that it's much cheaper and easier to knock a competitor off Top Google pages than to reach such a result fair and square. The most unpleasant thing is that it's true. Despite the official claims of search engine reps that Negative SEO can't ruin a website, the Internet is full of living examples of the contrary. By the way, I do have my own examples.
One should not be afraid of Negative SEO as seen in the form of backlinks intended to harm your websites, coming from shady websites across niches such as adult content, casino and make money. It all looks creepy enough, but has negligible potential to spoil your website in reality. I guess that it's the very type of 'bad backlinks' Google is able to define and ignore while ranking. But if you notice relevant links leading to your website with anchors typical for your niche, then there are all reasons to be worried. In particular, if these links don't appear all at once but slowly and regularly. Imagine how hard it's going to detect this kind of planned negative SEO!
In other words, if Negative SEO becomes too apparent, Google will discover and ignore it. But if Negative SEO looks like your own silly attempt to manipulate SERP results, you're likely to be punished by Google Penguin. The closer it looks to standard linkbuilding, the more likely your site is sanctioned by searches.
An interesting observation: if one wants to ruin your site by the tactics described earlier, it initially grows quickly in positions. Much quicker than before. But then a website gets lower in Google ratings, and if no feasible measures are taken, then it's impossible to solve this problem. In some cases, it's impossible to return to the earlier levels of organic traffic even after all desperate attempts.
How to Protect your Site from Negative SEO?
What measures could you take if your project is being attacked by competitors using tactics of the kind I described before?
There are two forms of protections – active and passive.
Passive protection is based on belief that the more visited and trusted your site is, the higher DA it has, the more resistant it is to Negative SEO. The more good links from authoritative sources lead to your website, the less impact toxic backlinks will have. Good links in your link profile mean that you have an airbag to protect your website from your malicious competitors.
So, the conclusion is very simple: get more great backlinks, especially those that couldn't be bought.
Active protection – it's the on-time deletion of harmful and suspicious backlinks, or, at most, adding them to Disavow Links Tool.
Disavow Links Tool Not Working?
I should clarify something about Google Disavow Links Tool. During the last couple of years, I've come across several people commenting in SEO communities that Disavow Links Tool doesn't work. Or, probably, that it works but selectively, because sometimes it's easy to get rid of harmful links and return traffic, and sometimes not. Since Disavow Links Tool doesn't inform about link disavowing results, one can evaluate the quality of this instrument only judging by external site parameters – SERP positions and traffic.
In order to know what's going on, one should take into account that all the harmful links you upload for rejection through Disavow Links Tool, are treated as recommendary information by Google. This means that Google accepted your recommendations, but not as a guidance for actions. Consequently, it is Google who decides whether to pay attention to these links or not.
The second reason is that webmasters consider any decline of organic traffic to be a Google Penguin impact. More recently, such a traffic downfall is assumed to be a result of Medic Update of Google algorithm. In fact, there are many other reasons for traffic decline. For example, your website could be 'punished' in another way: somebody copies the content from your site and files a DMCA complaint with Google on content theft. The result for your site will be very similar to Google Penguin fines: a complete loss of organic traffic and Google ratings.
The third reason for Disavow Links Tool not working is that not all harmful backlinks were rejected. In that case, as I underlined earlier, Disavow Links Tool will not inform you about this. You simply won't know that only a part of bad links were added to Disavow Links Tool. That's why it's very important to create a full link profile including the deleted backlinks that still remain in Goggle Cache.
The fourth reason is that Disavow Links Tool spends a lot of time processing the data. You could see the result after a month or even five months. The maximum term I knew is 9 months from the last backlinks download. The minimum term is 4 days. In the article below I'll tell you about how I managed to get Google Penguin penalty recovery in 4 days.
Sink or swim!
It's impossible to succeed in SEO without a systematic approach. Your pursuit of the positions and the absence of a systematic approach – they can't co-exist. But the system shouldn't be rigorous. Reviewing the measures that lead to success, it's very important to optimize and fine tune the strategy of site promotion immediately (if necessary). Only in this way one is likely to remain at Top positions for a long time.
The same is true for the measures that proved to be ineffective.
Analyzing my observations while fighting Negative SEO, I tried to find out the worst mistake that led to my failure. This was the inability to detect new harmful backlinks immediately and collect them.
Ahrefs is one of the best SEO tools in general. Nothing is better for analyzing competitor link profiles. However, this isn't the best for searching and defining harmful links from your malicious competitors.
My further step was searching for stronger software able to find all or nearly all links to my website. I also needed a more detailed quality review than that of Ahrefs. And the main thing I needed was a decent parameter for link toxicity.
I managed to find three instruments for my purpose and used them all: MonitorBacklinks, CognitiveSEO and LinkResearchTools. I began with the last, because some of my friends had used it before. It this article I'll tell you namely about LinkResearchTools, and then, probably, reveal my experience with the two others.
Toxic Backlinks Hunting
LinkResearchTools is a tool aimed initially at toxic backlinks hunting and fighting negative SEO. After Google Penguin appearance in 2013, lots of websites happened to lose their positions exactly because of harmful backlinks in link profiles. Many businesses turned out to be deprived of income since organic traffic was then unavailable. LinkResearchTools was created in order to solve such problems. All the subsequent SEO tools served just as additional tools.
First of all, I'd like to underline that I'm absolutely not trying to advertise this software. I just want to reveal my experience since it turned out to be successful. My close colleagues know about this from my own words.
LinkResearchTools has three significant pros:
It allows to create the most detailed link profile.
It allows to make a careful analysis on toxicity of links and their evaluation.
It provides a much quicker Google Disavow Links Tool functioning.
Now let's go deeper in details.
It is Important to Find All the Backlinks
The first priority when fighting negative SEO is catching all the links leading to your website. The very reason for my site's pessimization by Google Penguin was my inability to find all links, including, what was extremely important, toxic ones.
According to LinkResearchTools assurance, it uses more than 25 different sources when hunting for backlinks. All users have a further opportunity to upload their own lists of backlinks. Primarily, the links from Google Search Console and separate SEO tools. This is true for Ahrefs, Moz, SEMrush, Majestic and other tools available to you.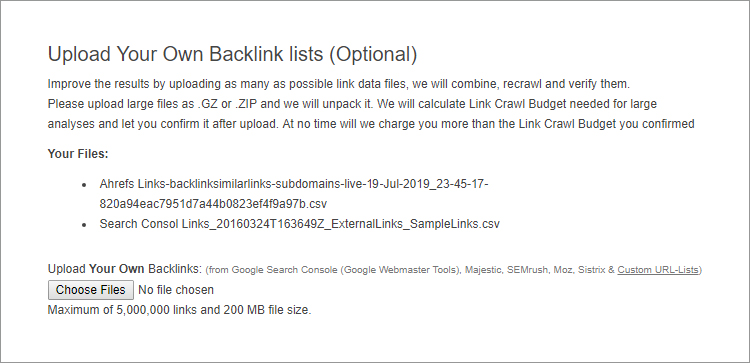 It allows you to collect all or nearly all links.
You also can upload your old List of Disavowed links or the links you'd like to ignore during analysis. This will save time and credits on the links you have no doubt about. This is particularly useful when you have to process more than 1 million links if some of them have already been disavowed.

Maximum Backlink Profile Audit Coverage
LinkResearchTools also makes it possible to analyze old or archived links.
Of course, a great many of such links don't exist anymore, but you still can catch the maximum number of links.
An additional measure is making use of Google Search Console: it's aimed at closer collection of backlinks leading to your website.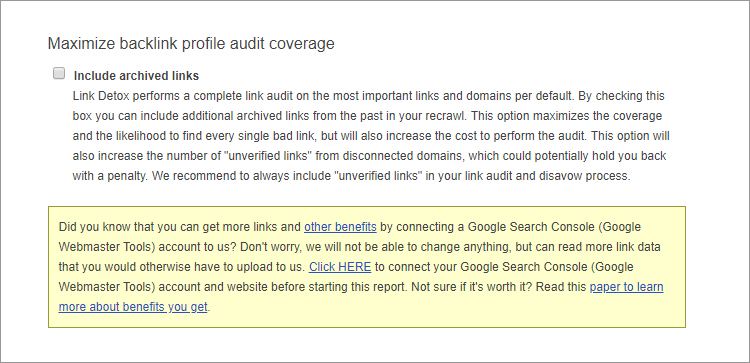 Should Nofollow Links be Checked or Not?
Despite Google official claims that nofollow links are being ignored during site ranking, LinkResearchTools still allows you to check them. According to LRT stuff, bad nofollow links can also spoil a website. I strongly recommend you to make nofollow links verification a must.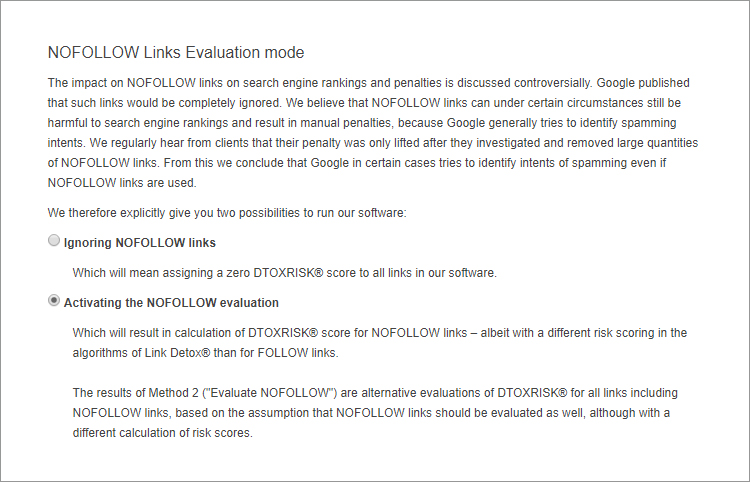 Thematic Relevance of Links
If you want to filter irrelevant links, keep in mind that LinkResearchTools allows you to choose one or several categories of your website. Thus, if your website isn't related to make money topic, but some of the links in your link profile do relate, they will be marked as suspicious and potentially harmful.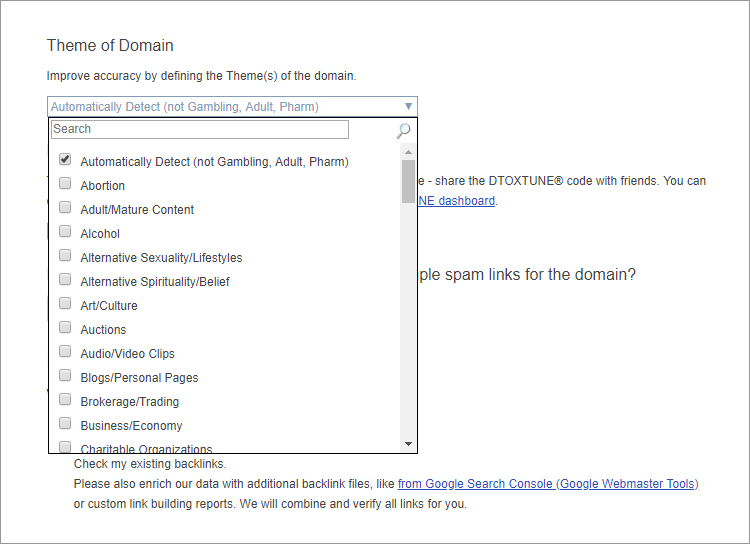 Mode Selection
There are three analysis modes in LinkResearchTools:
Link Profile Audit – your link profile checking.
Disavow File Audit – checking an already existing Disavow Links list.
Link Opportunity Audit – a preliminary checking of donors before links will be placed inside them.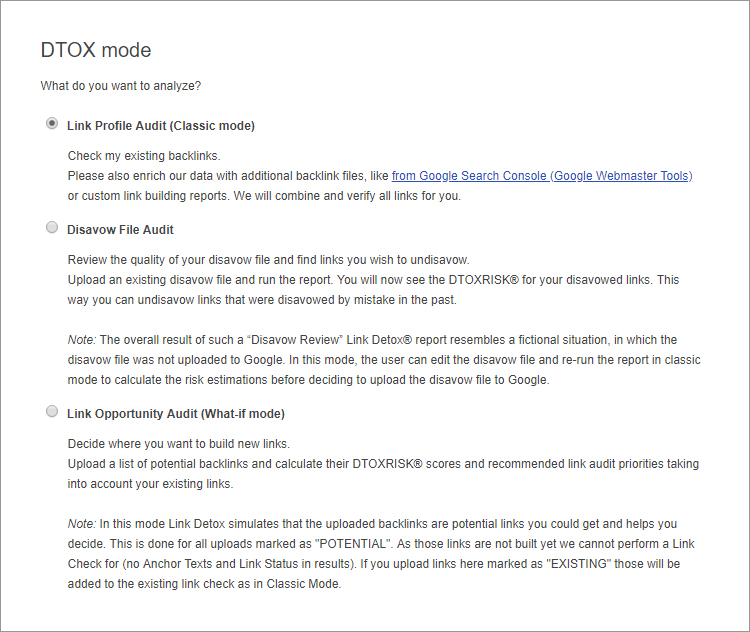 Anchor Texts Classification
LinkResearchTools is able to define the meaning of your links' anchor texts and decide whether a certain link is harmful or not. It is obvious that links with money anchor texts are able to spoil your website, especially when there are too many of them. It's notably dangerous, if such backlinks could be found on abandoned of poorly visited websites.
You'll have to sort your anchors by three categories:
Brand Keywords (for example: MarketingHack.net, MarketingHack)
Money Keywords (for example: guest blogging sites, popular forums list)
Other Keywords (for example: here, this link, article)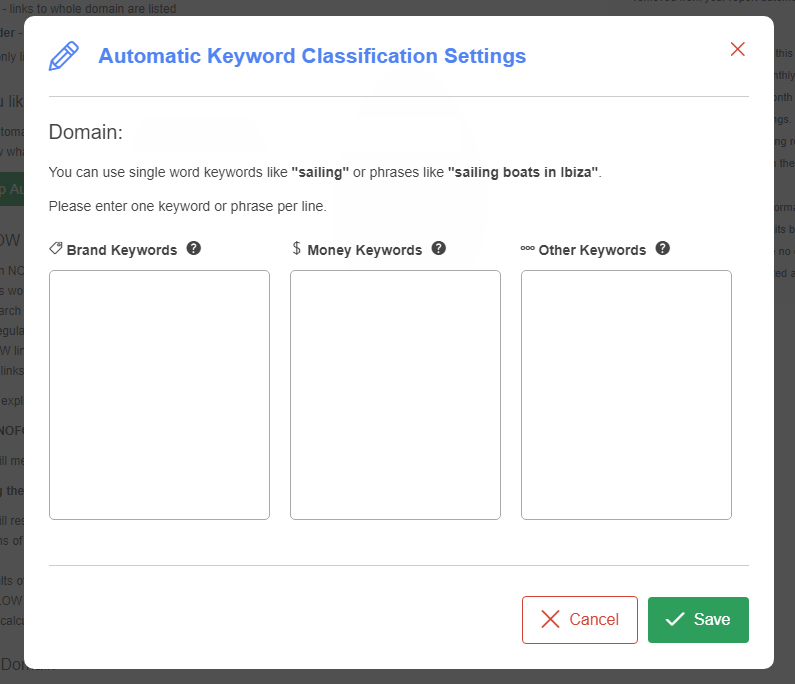 I advise you to do it personally using an existing list of keywords of your Google Search Console.
Starting a Project
After project launching LRT will examine all the links found for your domain (or webpage). Then a complex algorithm will make an automatic evaluation of potential risk for your website.
LRT considers 6 risk levels:
Very Low
Low
Below the average
Average
Above the average
High
The presence of Low and Very Low links is permitted in link profiles, while the remaining links are considered to be a potential risk. This is notably true for the links marked as High. They are usually placed on link-farms, abandoned sites, sites that sell links, ones penalized by Google or owned by PBN.
You could accept LRT automatic evaluation, but I strongly recommend you to check each link personally. If it's clearly seen that certain links are harmful, you don't even need to open them: just mark them as bad (a thumbs down icon). You should do the same with trusted websites links; of course, mark them as good (a thumbs up icon). The table below displays page URLs, anchor links, Class of the links and many other parameters including PowerTrust (quality) and DTOXRISK (toxicity).
You should immediately add all High links to Disavow Links List: one by one or clicking for selected.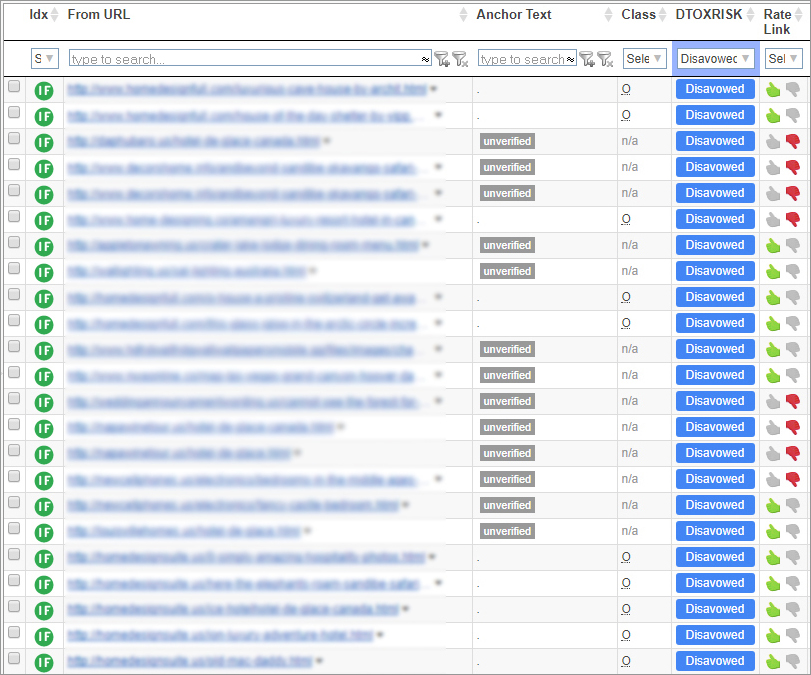 Link Profile Audit Results
Analysis is completed and all harmful backlinks are marked as Disavow, your project is likely to look like this:

Take a look and notice that there are no or almost no 'High Risk' links at link profile rating. As for 'reported as disavowed' links, their quantity is much higher: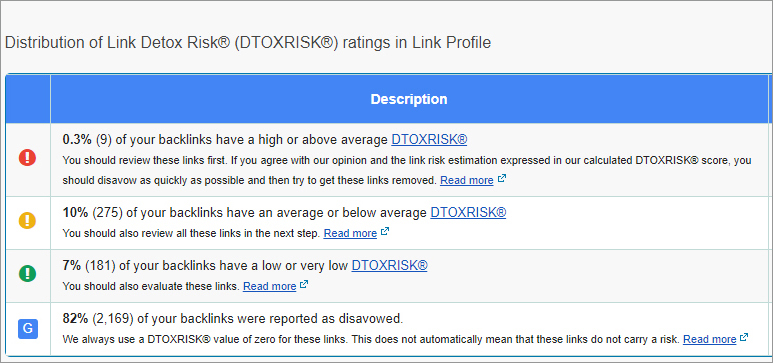 How to Make Disavow Links Tool Work Faster
The last but not the least LRT tool is Link Detox Boost®. This tool allows Google to significantly fasten the audit procedure of your Disavow Links List. This option is very useful since a usual Disavow Links audit can last several months.
Disavow links list is created, you'll be offered to use Link Detox Boost:
You also can activate it for your previous project. LRT recommends using Link Detox Boost not earlier than in 48 hours after you upload your Disavow Links List to Google Search Console. It is strongly recommended not to break this rule.
I don't know all the peculiarities of Link Detox Boost. But, surprisingly, a previously mentioned project pessimizated by Google Penguin returned the lost organic traffic in 4 days due to Link Detox Boost. It sounds far-fetched, but it is really so.

The traffic was fully returned: I even didn't expect that Google Penguin penalty could be lifted so quickly.
In fairness, it's worth saying that this is my first and the only positive experience with LinkResearchTools while fighting Google filters. Later I used it two times for other sites and the result turned out to be unsatisfactory. Probably, there were other reasons for organic traffic decline. It is worth mentioning that several big Google updates were released at that time, including a notable Google Medic Update.
As a Conclusion
It is obvious that Google ranking algorithm is being improved though years and it becomes better at link manipulations' detection. But it's still imperfect, despite official Google claims, since it often makes mistakes.
Some more experienced SEOs are aware of this, and if they are dishonest, they can use such measures while fighting competitors for Google positions. Formally it's impossible. But in reality sites with weak link profiles, low trust and attendance do lost their top Google positions. In theory, negative SEO is able to spoil any top website, but a weaker site is more likely to be attacked.
That's why if you want to protect your site from negative SEO, think first about your project development. This applies both to content and getting new good backlinks.
Some top SEO tools inform about new backlinks via email weekly. Thus, you can detect newly appeared links and notice which of them are suspicious. The earlier you discover your competitors' plans, the more chances you have to protect your site from their negative SEO.
Finally, Google traffic decrease is not always a Google filters' impact. Some reasons may be as follows: a seasonal traffic decrease (for example, on Christmas holidays), Google algorithm updates, technical errors, outdated content and more.