You are the proud owner of a WordPress enabled website. Congratulations. But have you thought of SEO? SEO is the process that allows your site to rank at the top of search engines. It is a highly technical process, and we won't get into the nitty-gritty, but the good news is that most of the heavy lifting can be managed by plugins.
That is why WordPress is the preferred platform of so many millions of sites. Anything that you need can be outsourced to a plugin and voila you have a fantastically running site. If you are asking what is the best SEO plugin for WordPress look no further. We tested the most popular WordPress plugins for SEO that you must know about in 2020.
Top 15 WordPress SEO Plugins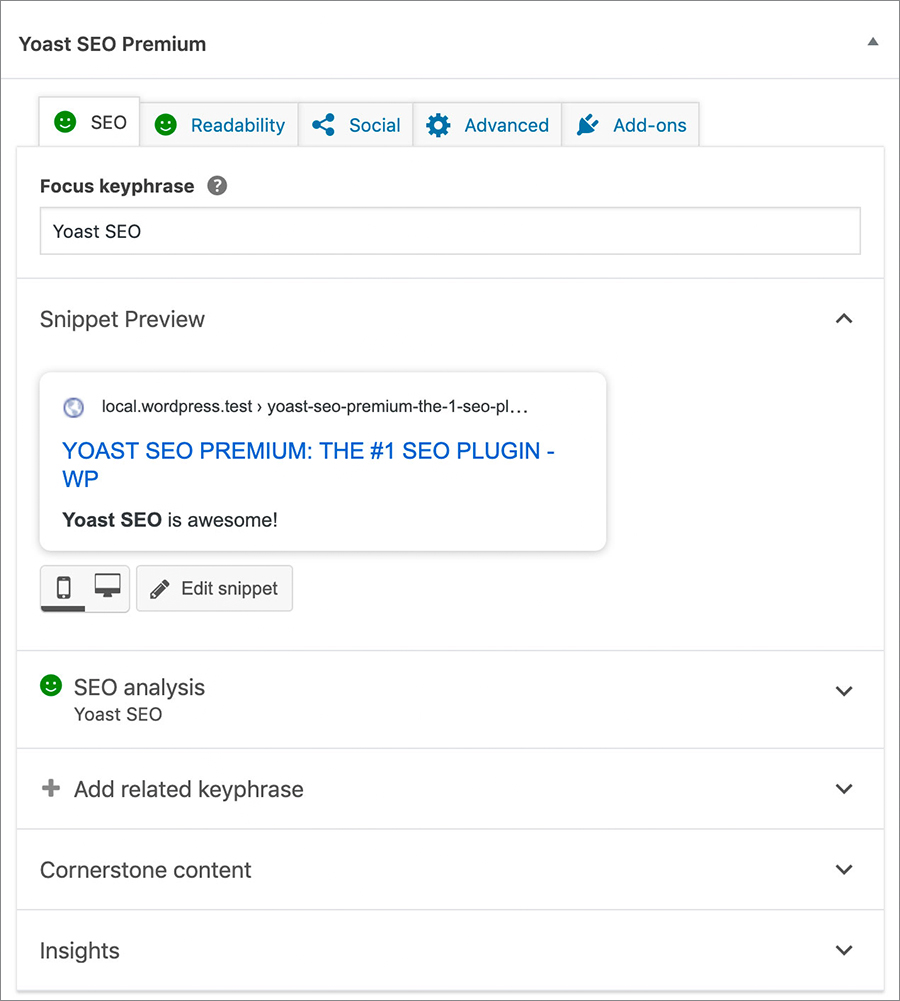 From 2008, Yoast SEO has helped WordPress sites rank high in search results. With over 5 million active installations at the time of writing, it is an amazingly versatile plugin that allows websites of any type – from the corner gym to biggest clothing brands achieve page one results.
Features:
Content amounts to nothing without precise keywords. SEO analysis of content is Yoast's forte and makes it the champion among WordPress plugins for SEO.
It is possible to create SEO-ready text with the right density of keywords. Overstuffing keywords is frowned on by search engines.
Social media preview that allows you to generate eye-grabbing content.
Fine-tunes the website so that it ranks higher.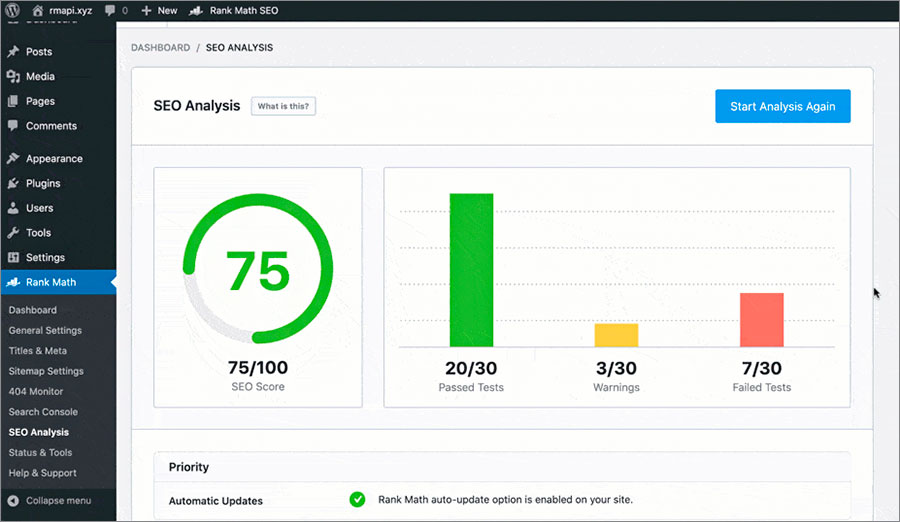 With only 300,000 installs Rank Math has a smaller footprint than its more famed competitor but has the same capabilities. The developers claim that it is the perfect WordPress SEO plugin and the glowing reviews confirm it.
Features:
Rank Math has a smart automation feature that allows it to auto-tune your site. Few clicks and your website is optimized.
Integrates Rich Snippets, the small preview text on Google, through use of advanced Schema Markup code.
Perfect snippet preview that allows you to view the site as visitors and search engines would see it.
Allows the user to track keyword ranking in Google from inside the plugin thanks to Google Console Integration.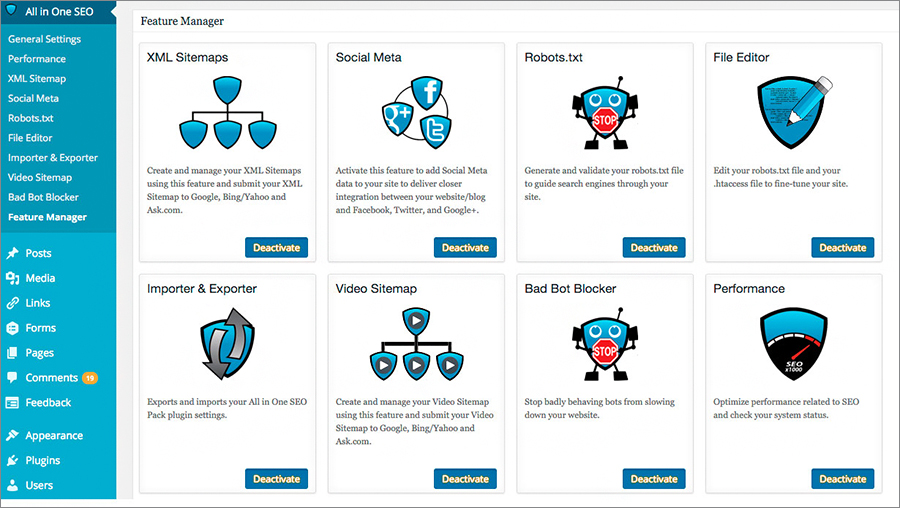 Downloaded a whopping 2 million times, this is the best SEO plugin for WordPress after Yoast. Being a matured platform, it offers relative ease of use as well as robust features. It is also lightweight and does not drag down page loading time. All in One SEO Pack is also available in over 50 languages.
Features:
Works out of the box with no steep learning curve required. Just install and run through a simple configuration wizard.
Notifies Google and Bing about changes to your website and gets them updated.
Free to use with online ecommerce sites employing WooCommerce. This is a big plus.
Automatically creates meta tags for better page search and supports Google AMP. Google AMP allows for faster mobile viewing.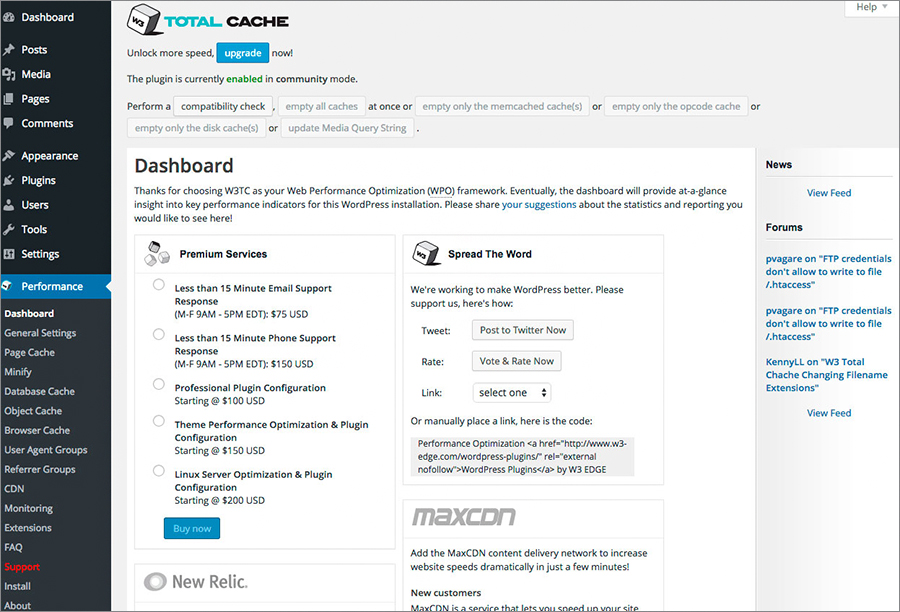 Image source: futuremarketing.co
W3TC is a useful plugin that boasts over a million downloads. It provides advanced features that can be used with shared hosting, virtual private servers, dedicated servers. In other words, it is agnostic to the hosting environment and continues to provide support to your WP site even if you change servers.
Features:
Able to hugely improve website performance and is best for SEO related cache configurations.
Provides browser caching and instant page reloads—several types of caching scripts to improve page performance.
Uses progressive rendering technology that saves bandwidth. Pages are not rendered entirely upon launch, but as the viewer scrolls down.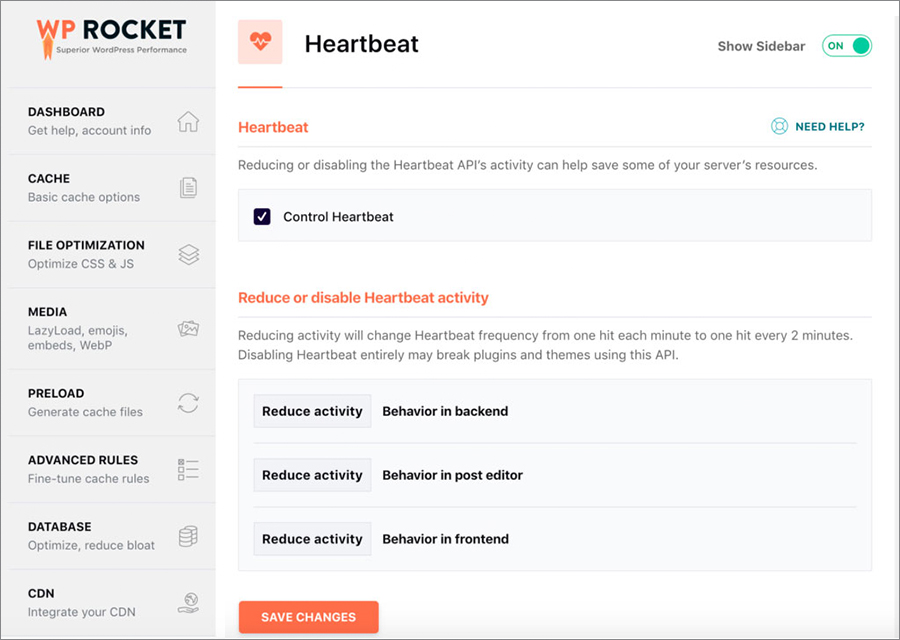 Image source: wpastra.com
The leader in providing cache WP Rocket speeds up websites. Since Google places stress on page loading time, this is a plugin you might want to use to rank higher. Caching is a temporary store (think of RAM on your laptop) that allows quick access to frequently used code.
Features:
Easy to configure with all possible optimizations placed on a single pane to help beginners.
Minimizes the effect of bloated HTML and Javascript code through minify feature.
Loads images, when needed, thus reducing the workload of the browser.
Allows automated cleanup of any defunct database every week or month.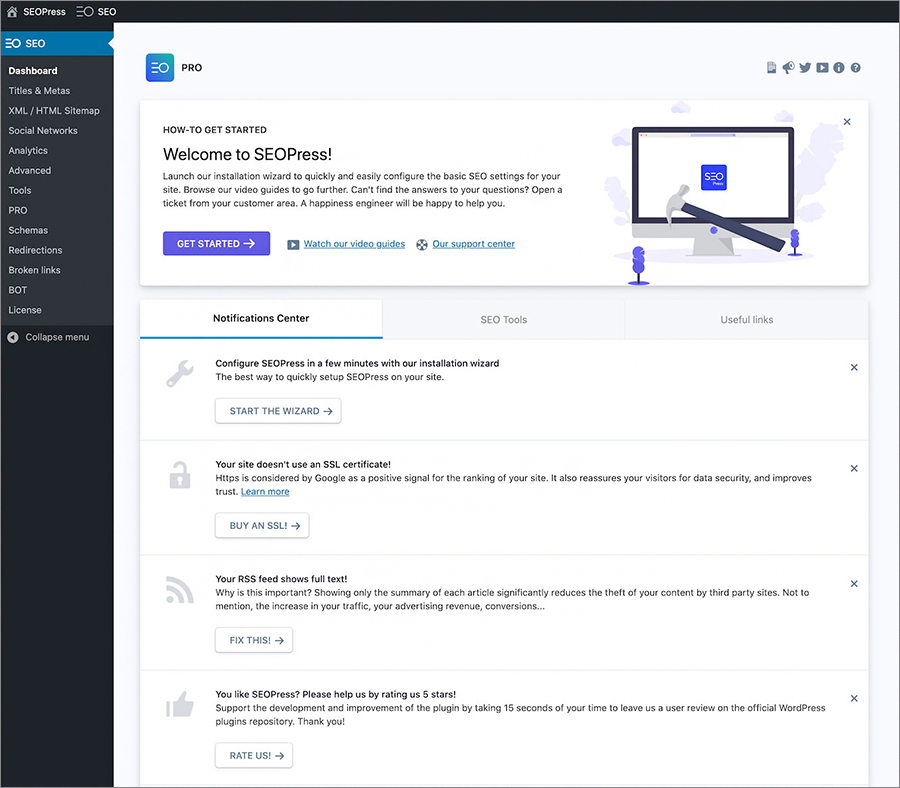 SEOPress is a powerful tool that allows you to create HTML and XML sitemaps, speed up your site, create schemas and much more. An installation wizard will enable you to install it with one click and has an upfront one-time pricing policy.
Features:
Create customized HTML sitemaps to allow quick navigation.
Easily link your site to social media.
Set up several types of meta robots – nofollow, noindex, nosnippet and more.
Allows import of settings from another site and has an integrated Google Analytics dashboard.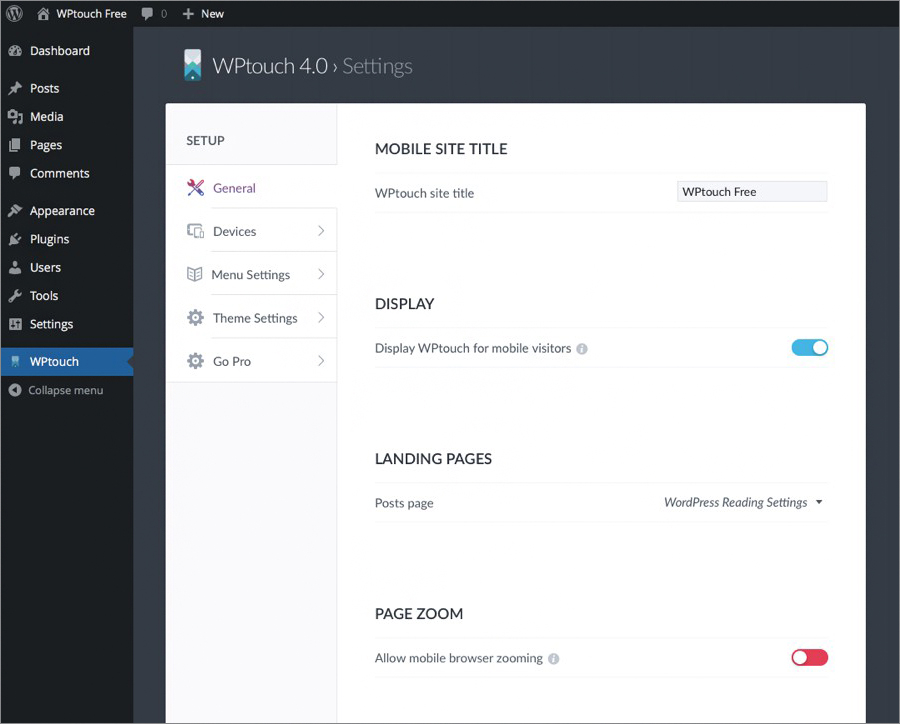 Was your site designed way back and does not render well on mobile devices? Worry not since WPtouch Mobile Plugin creates small screen friendly pages in an instant. It allows you to set up a separate version of your site without any new coding.
Features:
Automatically imports your site information into the new mobile site and adds AMP functionality to your existing website.
An open-source project that is continuously improved by developers around the globe.
Create a new main menu for your mobile site to allow ease of navigation.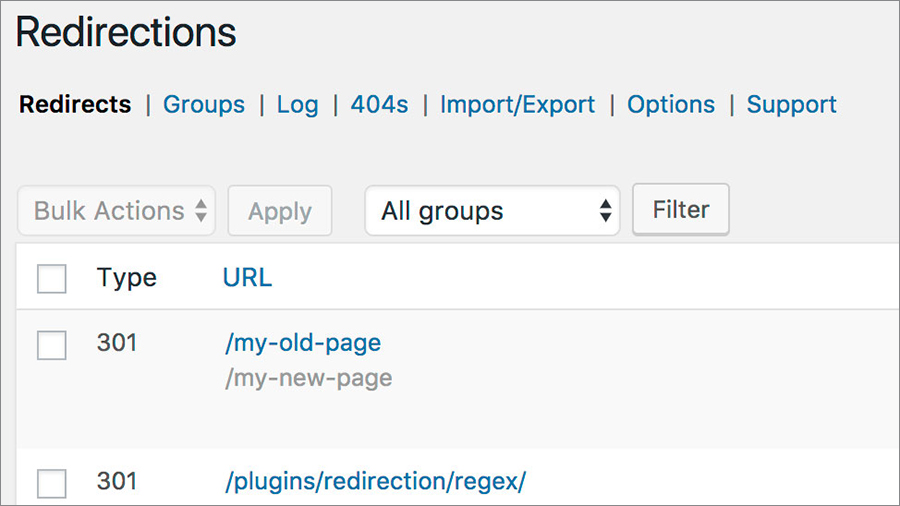 A website redirect is one of the most useful tools for maintaining a site. As your site grows in size not all of the pages would exist in original form. Some would be shifted to new pages, others merged. Using website redirection is essential so that users don't end up with 404 errors. Redirection is a tool that does exactly what its name says.
Features:
Simple interface with old URL and new replacement URL setup.
Easily view all 404 errors in the past week and adjust site map accordingly.
Avoid duplicate contents with redirects to the same page and improve search results.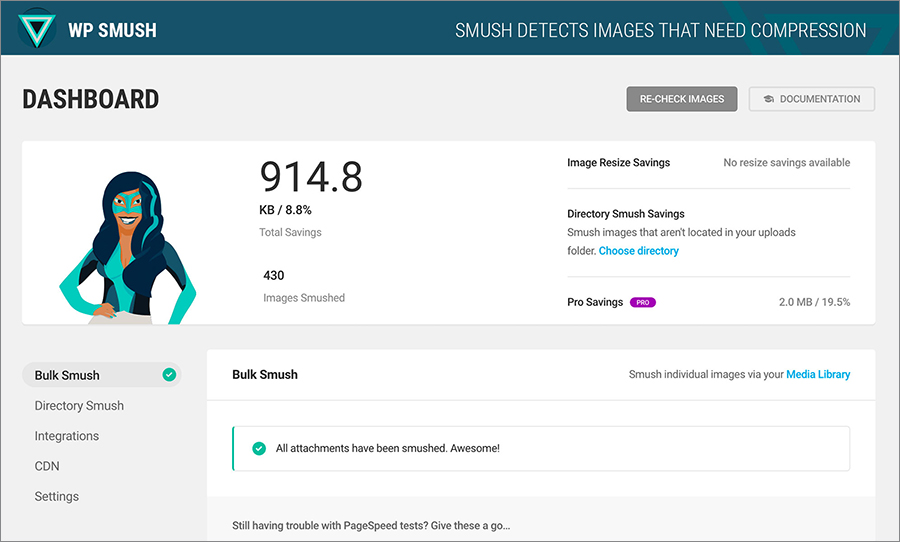 If your web page is image-heavy, it is sure to slow down page load. WP Smush compresses images without any visible loss of quality. Image smushing is an innovative new technology that performs lossless compression at the backend and keeps page sizes down. It works well on several of the themes used on WP, especially those from Elementor.
Features:
Unlimited free image compressions and management of EXIF data.
Set the custom size of an image depending on its use and location. You could also roll back to original size with few clicks.
Use the WebP image container that is more efficient than JPG.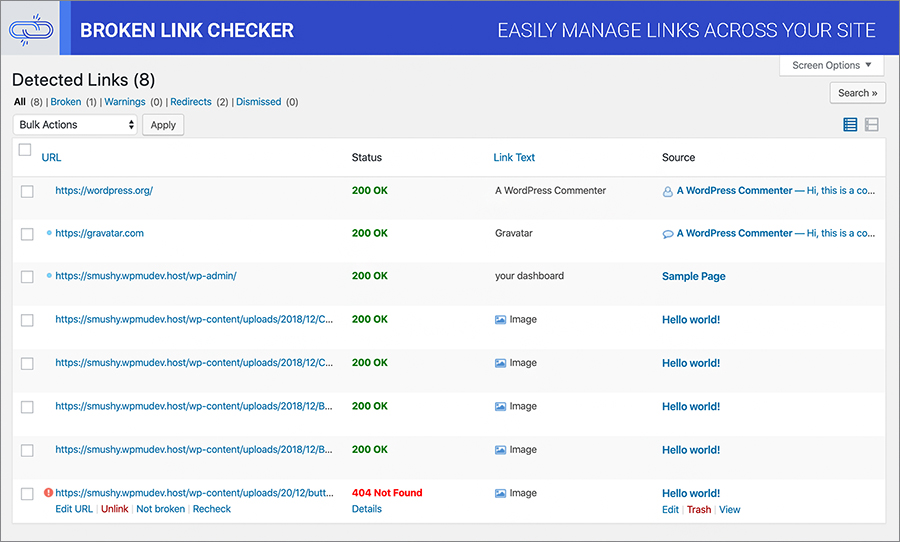 When new content was generated, you must have plugged in several outbound links to add authority to content. After a year or two, are you sure that they still work or are they causing too many 404s? Broken links are frustrating to users and make your site look unprofessional. This is where Broken Link Checker steps in and makes life easy for you.
Features:
Parse the entire website checking for broken links at once.
Sends notifications through dashboard and emails.
Edit the broken links from Broken Link Checker plugin panel without having to manually visit and edit each page.
Removes all 404 errors that impact your site ranking negatively.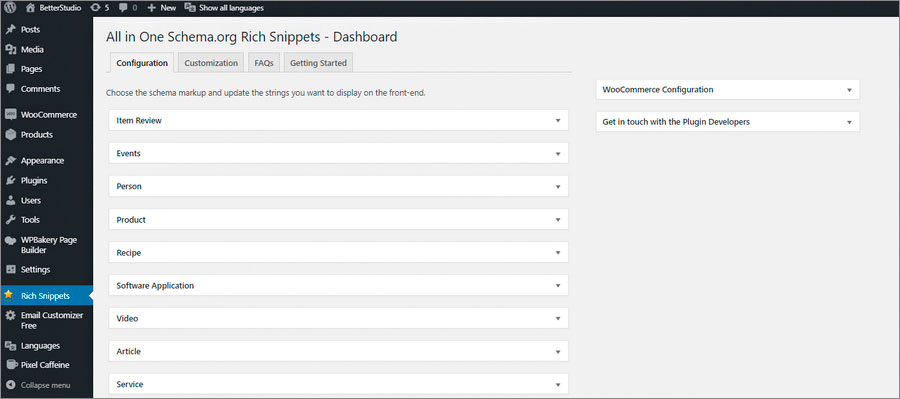 Image source: betterstudio.com
Have you ever seen a site rank at the top of Google with a short summary of its contents in a box? It is what Google calls rich snippets and it can relate to persons, reviews, product, recipe, breadcrumbs etc.
A sophisticated schema markup plugin built employing Google Schema guidelines, the All In One Schema Rich Snippets makes your site rank higher. The websites that get featured on top of search pages have rich snippets provided by schema markup.
Features:
Created with javascript object notation that makes it easily viewable to search engines.
Works silently at the backend and does not interfere with the site rendering.
Helps your site rank higher in click through rates.
Provides star ratings, author and a short summary through the rich snippet.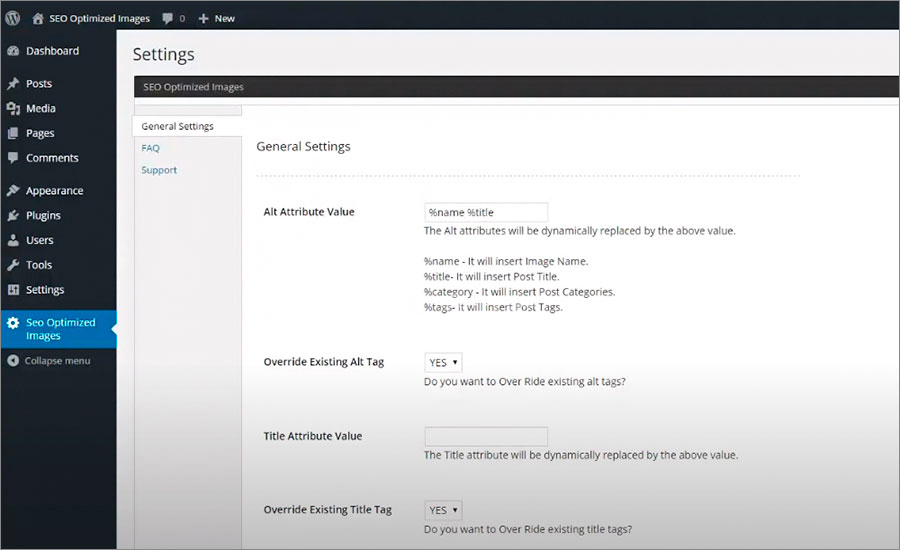 Unlike humans, a search engine has no way to understand the content of an image. This is where alt tags play an enormous role by providing a description of images for search engines. SEO Optimized Images helps you to set up appropriate alt tags and make your page appear more relevant to a search.
Features:
Allows change of file name – example 0001.jpg renamed to taj_mahal_1.jpg – allowing Google to understand the subject of the image.
Saves both title and alt tags in the database concurrently and you can revert when you please to original tags.
Provides seamless integration with top page builders such as Beaver Builder and Divi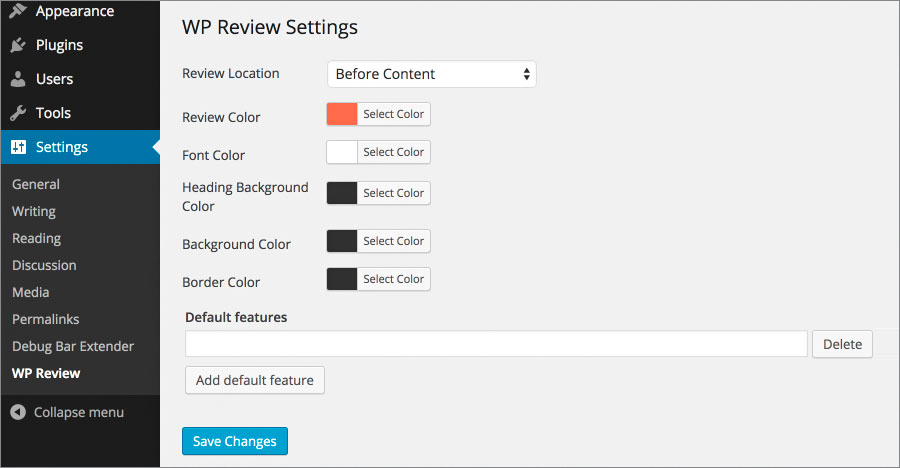 If you are running a WP based ecommerce site, it is vital that it carries reviews. Peer to peer reviews are more trustworthy to buyers than critical reviews. A review has several elements – including body and star rating that make it different from other parts of a web page. WP Review Pro makes reviews go live on your site in a matter of hours.
Features:
Add review functionality to your product page without having any ability to code.
Professional presentation with stylish review box and interactive reviews.
Supports 19 different schemas for search engines.
Grade reviews by stars, point and percentage.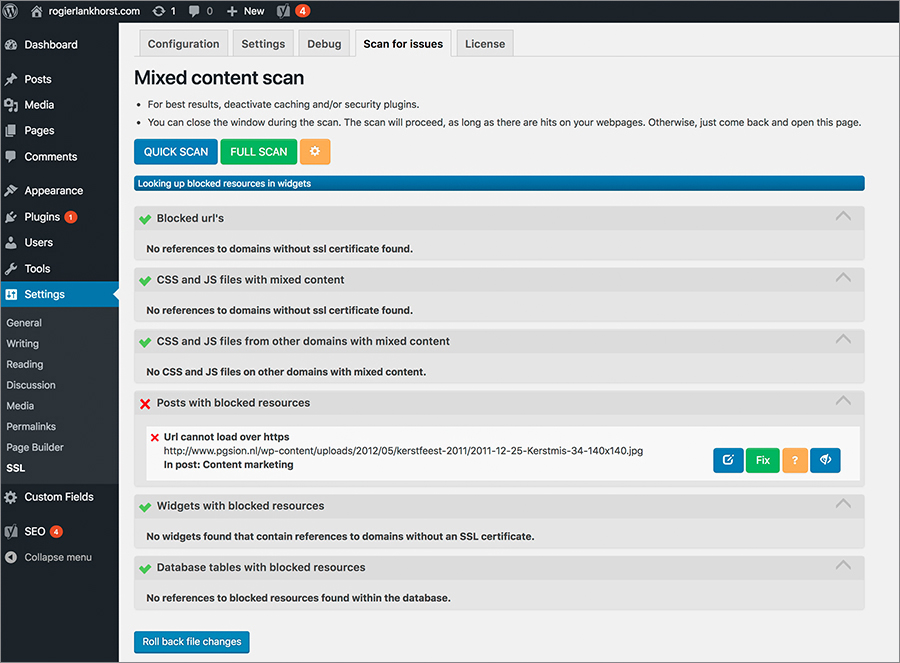 Have you noted how Google Chrome has recently started to notify many sites as potentially unsafe? This is because Google wants every website to have SSL and communicate using HTTPS. Given the amount of malware circulating on the web, it is a good idea. Hence you must buy an SSL certificate for your site. Your hosting provider will provide the certification. Really Simple SSL does the rest. It is open-source software and used by over 4 million sites.
Features:
Implements SSL with one click.
Checks every page for HTTPS authorization.
Executes old bookmarks with HTTP to be redirected to the SSL version of the site.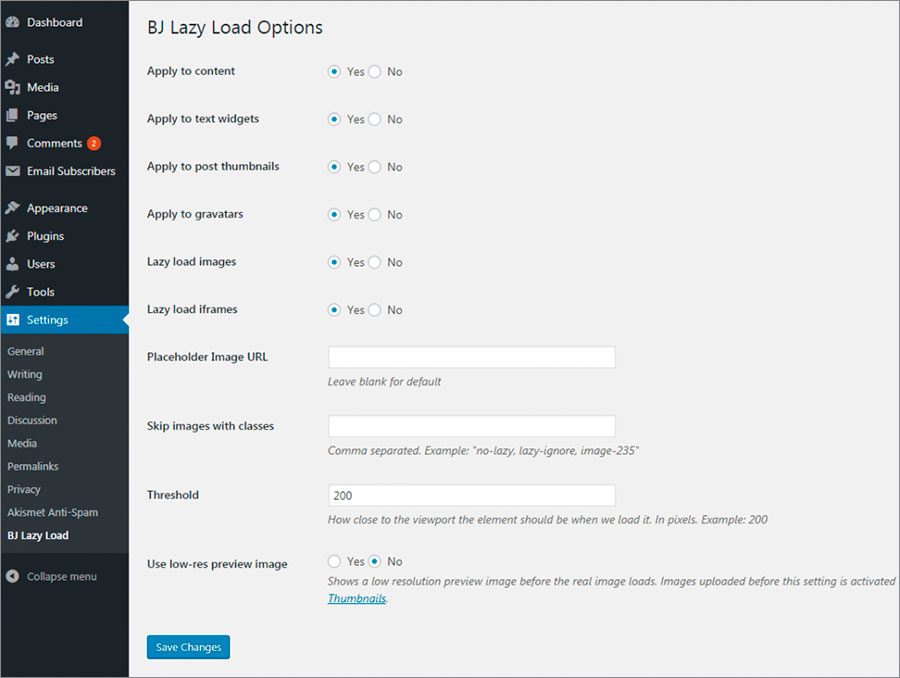 Image source: alviwebtech.com
Website loading time is of the highest importance. Modern web pages are literally quite lengthy. There has to be a lot of scrolling before one reaches the footer. There is no need to load all the images and thumbnails if the viewer is going to abandon the webpage midway. To assist in this BJ Lazy Load loads placeholders. Actual images are only loaded as the user gets closer to media-rich sections.
Features:
Easy to install. Just download the zip file and integrate into the theme.
Automatically scales down image sizes to reduce the load on the browser.
Has no settings and only install is needed. Works with almost every WordPress theme.
Which is the Best SEO Plugin?
Yoast probably is still a must-have. However, as our review showed, many other tools have a quite similar feature set and employ newer technology. Hence some would find Rank Math as a better alternative.
A word of caution – don't use more than one to optimize a site at the same time for the same function. This would cause adverse consequences, and your site might need revamping.