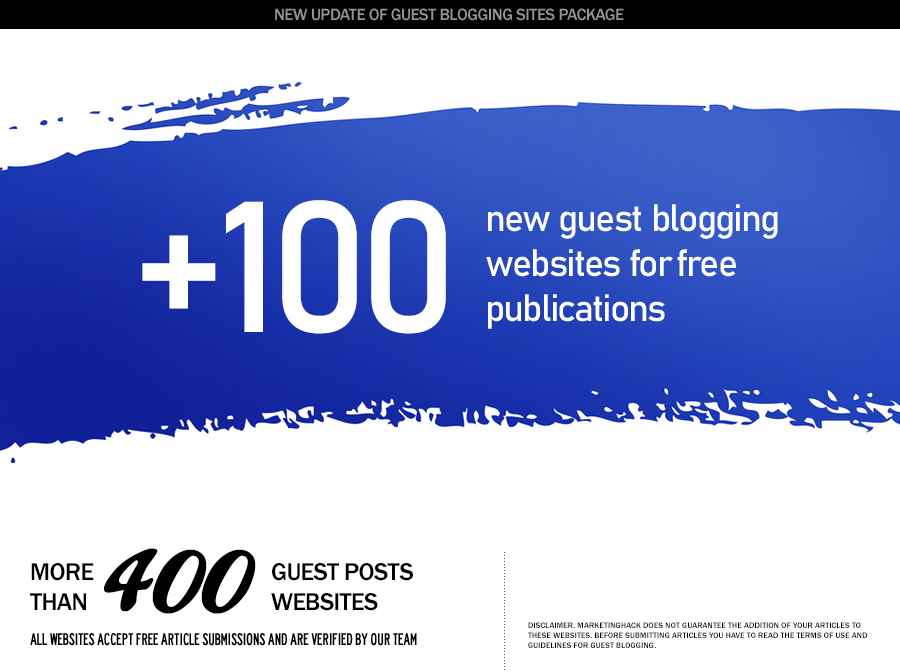 Even before Black Friday and Cyber Monday promotion ended, we updated the database of websites for guest blogging. We removed irrelevant websites - some ceased to exist and some began to take payment for posting guest posts. And added 100 new ones - all of which were checked by our link builders.
For those who first time hear about our Free Guest Blogging Sites Package, this is a database of websites which accept guest posts for free. This Package consists of a list of websites (currently 410 websites as of Nov 28, 2019) and the Ultimate Guest Blogging Guide, where we tell in as much detail as possible how to get the most out of guest blogging and outreach. The list contains not just a list of websites checked by our link builders, but also contains details about submits - on what conditions does this website accept guest content. Also for each website we specified the Guidelines page (if any) or the Submit Page. This will significantly speed up work with guest blogging sites and save you or your staff a lot of time.
Since all our Packages are regularly edited (non-working websites are removed and new ones are added), access to the Free Guest Blogging Sites Package is provided by a subscription. Cost for 1 year - $150.
Find out more details on the page: https://marketinghack.net/guest-posting-sites-list/